CONSIDERING PROBLEMS FOR THE PDP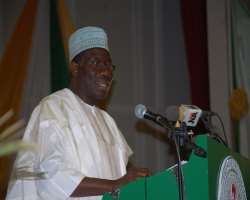 PRESIDENT GOODLUCK EBELE JONATHAN.
President Jonathan is swimming in murky waters with wrong policy pronouncements and actions. He has allowed the insecurity in Plateau Borno and Bauchi to degenerate. In Akwa Ibom, the mayhem which was caused by his PDP members at Ikot Ekpene has now been used against ACN members whereas it is coming in the open that the burning of the vehicles were by PDP supporters who were looking for now to nail the ACN that has grown in popularity over there. This cannot stand as he behaves as an authoritarian; copying from his mentor, Obasanjo.
The power of incumbency which normally should be a plus might turn to be his pain as his economic policy and management of security in the land remained unimpressive as people would weigh performance before voting.
People fear that Jonathan's next four years could cause more disaster as he leans more on former President Obasanjo in decision taking. Poor performance on electricity power generation and distribution continue to hunt his administration. We hear about 4000MW generation but where is the power. He has also made wrong pronouncements, some he recanted; in other words, he looks more a president that acts before reasoning and masses might not like to gamble.
Apart from the above, he does not seem to have grip of PDP. Though as a party member and incumbent president by chance, he committed serious error by making a statement positing that PDP never had rotation in its document; a statement that should have been left to his aides thereby remaining tactical. Furthermore the way he ditched Okwesilieze Nwodo on PDP matters shows wobbling leader. During the aborted PDP e-registration, he later danced to the tune of the state governors even after he had flagged it by registering at the glare of the media. In short there are many directionless decisions involving his administration so far. All this showcases him as untrustworthy leader. The action of some people in the northern zones when he flagged off his campaign should remain food for thought, for him.
By the way, I am asking Dr. Ezeife's south-east elders forum to keep quiet. Why are they threatening Jonathan to return the chairmanship of PDP to the zone? By so asking, they want both the presidency and the chairman of the ruling party to be with the Igbos alone since they said that Dr. Goodluck Ebele Azikiwe Jonathan is one of them (an Igbo) therefore should be voted for. Ezeife and his co-travellers have forgotten that they have sold their birthright, including producing president of Igbo extraction in 2015?
Chief Barnabas Osuanlele/Ikpoba Slope/Benin City/Edo State.
Disclaimer:

"The views/contents expressed in this article are the sole responsibility of the author(s) and do not necessarily reflect those of The Nigerian Voice. The Nigerian Voice will not be responsible or liable for any inaccurate or incorrect statements contained in this article."
Articles by thewillnigeria.com