PDP ZONING SITUATION: NOW THAT OBASANJO HAS CONFESSED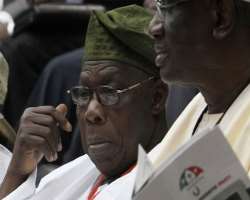 FORMER PRESIDENT OLUSEGUN OBASANJO.
At the Eagle Square Abuja March 26, 2011, the former President Olusegun Obasanjo (and indirectly) the PDP presidential candidate in the forthcoming election, Goodluck Jonathan, reversed selves when Obasanjo said that there was and still is zoning in the PDP constitution that gave rise to Yar'Adua presidency in 2007.
It would be recalled that Obasanjo at the end of his two term tenure and when he failed to secured the aborted third term briefly deceived some southern governors into joining presidential race only to be suddenly reminded by Obasanjo that zoning should be followed hence he trumped up the sick Umaru Yar'Adua as PDP's presidential candidate for the 2007 presidential election. Surprisingly, the same Obasanjo was the first to fire at the late president Musa Yar'Adua to resign if he could no longer perform the functions of the President; at a time the dying man needed sympathy and prayers for God to receive his soul? Some Yoruba personalities have recently confessed in the media that Obasanjo told them that he knew Yar'Adua was nearer the grave by the time he backed him to be president; what a wicked act?
But Obasanjo who recently denied PDP ever had zoning in its constitution rooted for Jonathan in the forthcoming 2011. Jonathan, whose stock in trade is double-speaking, echoed Obasanjo's sermon on zoning; this was when he returned his presidential nomination form at the Wadada House. The duo of Obasanjo and Jonathan are now considered as lying, untrustworthy, and double-speaking.
Obasanjo's March 26 Eagle Square self-reversal has proved Ciroma's Northern Political Forum right; that for peace, equity, and fair play to all parts of the country to have the opportunity of producing Nigerian President in turns PDP had zoning in its Constitution. Though persons like General Muhammed Buhari (retired) maintained that the zoning was PDP's family affair and that he would only accept the position if it existed in the Nigeria Constitution.
Obasanjo has again started saying that Jonathan would stay only for term should he wins the forthcoming election. How could one trust statements coming from Jonathan and Obasanjo when Jonathan himself remained slippery and kept mute when asked by Igbo nation which part of the country he would hand over to in 2015. Jonathan also demonstrated the stuff he is made of when he refused to sign for the northern clique that would only run for one term and hand over to the north in 2015.
Alhaji Musa Salem, Aguiyi Ironsi Street, Abuja.



Disclaimer:

"The views/contents expressed in this article are the sole responsibility of the author(s) and do not necessarily reflect those of The Nigerian Voice. The Nigerian Voice will not be responsible or liable for any inaccurate or incorrect statements contained in this article."
Articles by thewillnigeria.com