36, 000 Operatives For Polls In Rivers; I will Not Rig - Amaechi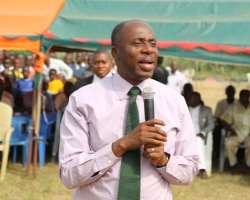 RIVERS STATE GOVERNOR, MR ROTIMI CHIBUIKE AMAECHI.
PORT HARCOURT, March 31, (THEWILL) – Rivers State will be policed by 36, 000 security operatives in order to maintain law and order during the April general elections.
Rivers State Police Commissioner, Alhaji Suleiman Abba told journalists during a press conference in the state capital, Port Harcourt that the police force would deploy 16, 000 officers to the field while the balance would be contributed by the State Security Service (SSS), the Nigerian Navy, Nigerian Army, Nigerian Air Force, Nigerian Prisons Services, Customs, Immigration, National Drugs Law Enforcement Agency (NDLEA), Federal Roads Safety Corps (FRSC) and the Nigeria Security Civil Defense Corps (NSCDC).
Abba warned politicians and party supporters to obey election rules and abstain from criminality. He assured that the command would not hesitate to bring the full might of the law on anyone found disrupting the polls, especially those who brandish firearms at polling centres to scare off or intimidate voters.
In the same vein, THEWILL has gathered that the 2nd Amphibious Brigade of the Nigerian Army in Port Harcourt today concluded its one week drill code named: "Tactical Exercise Without Troops and Field Training Exercise (TEWT/FTX)", which was conducted to train army personnel and operatives on how to respond to a possible worst case scenario of violence or protests during the elections.
The Brigade Commander, General Tukur Yusuf Buratai said the training was indeed necessary as it is the army's responsibility to assist other agencies in order to guarantee a 'hitch-free' election.
He assured that the army would not use force against peaceful protesters.
Meanwhile, the Rivers State Governor, Mr. Rotimi Chibuike Amaechi today assured residents of the state the his party, the Peoples Democratic Party (PDP) would not rig elections in the state during the forth coming polls.
The Governor, who also challenged the opposition to do same, addressed a gathering of civil society organizations inside Government House, Port Harcourt.
"As the governorship candidate of the PDP in Rivers State, I promise that the PDP will not rig the forthcoming elections. The PDP will not participate in any rigging. Let other political parties come out and make a similar pledge," Amaechi stated.
He urged voters to post election results on Facebook and Twitter after they are announced by officers of the Independent National Electoral Commission (INEC) at the polling stations where they voted to forestall any hope of manipulation of votes.