BON Presidential Debate: How Utomi, Dara and Ndok Fared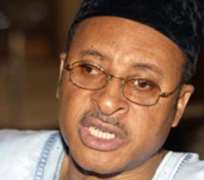 Tuesday night,some presidential aspirants were afforded the opportunity to sell themselves to Nigerian voters, ahead of next months polls, as they fielded questions from the panelists of the Nigeria Election Debate Group. Four aspirants were scheduled to participate in today`s debate which was aired on all local television stations within country.
However, three candidates featured in the debate, specifically, John Omoniyi Dara of the National Transformation Party (NTP); Pat Utomi of the Social Democratic Mega Party (SDMP) and Mrs. Ebiti Onoyom Ndok of the United Party for National Development (UPND) were present. While the candidate of the Mega Progressive Peoples Party was absent.
In their opening remarks, all the candidates agreed that the country had a lot of challenges and desired change.
According to Dara, "we must not down play the seriousness of our situation. Our party was formed in the first place because of the failure of the other parties to make things work."
Pat Utomi opined that he is a nation builder who was born in a nation of promise with a leadership which has failed. "This is a country many black people are embarrassed about. You do not need to look long and hard to see that Nigeria is always at the bottom of every indicator. With this, one must ask why. So I have volunteered to make myself available for the charge."
While Ndok the only female candidate in the presidential race proclaimed that she was in politics because of the denial of Nigerians to access the basic needs of life. She averred that her party stood for socialism and egalitarian distribution of wealth.
Below are the questions posed to the presidential aspirants, and how they responded:  
Would you operate the Nigerian constitution as it is now?  
DARA : there are several aspect of our constitution that has become a source of concern. The constitution as it is now is strong enough to assist us. As for the immunity clause, we need to review it and make sure that any criminal breach would make a governor face sanction. It is not because of the constitution that there is so much indiscipline. The constitution is not really our problem, it is the operators.  
UTOMI : I will do away with the immunity clause. The problem with our democracy is the lack of availability of a strong system of accountability. People should be held accountable. The whole idea of the clause is to do away with the nuisance civil litigation that can distract a sitting governor, but we have seen in our case that it has been abused repeatedly, so I would definitely do away with the immunity clause. I stand before you a man burdened by the fact that since 1999, we have earned more money than the country has earned all the years before 1999 and the quality of Nigerians are worse today than it was before 1999 for the simple reason that our constitution does not work, because it learnt itself to state capture. Armed robbers, drug barons can manage to push around the system, grab a few ballot boxes, get themselves pronounced winners of an election, get to public offices and use state resources hire Senior Advocates of Nigeria, keep the system as running as possible, capture the state and keep the people hostage. This is a challenge in the constitution that we must do away with. Until we get a true parliamentary government, we would not have that and Nigeria would continue to be challenged.  
NDOK: presently, the constitution of Nigeria looks okay, but still, there are a few bits that need changing. How come somebody elected is protected from the people through immunity? We will do away with that so that everybody that deeps his hands in the coffers of government would be brought to book. Nobody is larger than Nigeria. There is no immunity clause as far as my party is concerned.  
What initiative would you put on the table to ensure food security?  
UTOMI : I still remember the groundnut pyramids. Policy with the coming of oil, led to a situation where it was not meaningful to grow groundnut because as the exchange rate was the way it was then, if you grow groundnut, you would earn less money than the fellow who chose to become a security man in an oil company. We have had a history similar to Indonesia but Indonesia prevented that from happening to them with oil well. They made sure those in agriculture earned well to compete and have good quality of life. Policy failure in Nigeria led to the collapse of agriculture and that can be reversed.   I will take the factor endowment of the six geo-political zones and ensure that the appropriate infrastructure is in place to make them grow what would make them comfortable. We created marketing board and they have failed us and we need to go back.  
NDOK: Revival of the agricultural sector in Nigeria would remove the over dependence on oil. Government has moved away from the cocoa pod and groundnut pyramid and concentrated on oil. Every sector in Nigeria is well endowed with what it can live with. Plateau has potato; Benue has a lot of fruits. We will take interest there and introduce mechanized farming. We will create co-operatives, create roads, make sure fertilizers get to the farmers on time and introduce storage facilities for the farmers.  
DARA : one of the fundamental problems of executing policies in Nigeria is our tendencies of approaching things on a piecemeal basis. We have so many possibilities. My party came up with four cardinal programmes because we felt we must learn to solve problems. Managing Nigeria's agricultural potentials would not occur until we go through the basics. We are yet to fully document our arable land availability. The tragedy of leadership is the failure to mobilize the people to realize that we are an agricultural power.
The Nigeria Agriculture land Development Agency was introduced with the aim of making sure that we make optimal use of our land resources. We can go on with stories forever about possibilities. India went to France and borrowed some seedlings, now they are exporting more wine that France. We must take a grand approach on this.  
What is your agenda for the environmental challenges that Nigeria faces today and what would you do with climate change?  
NDOK : 79.7 % of Nigeria's land mass is available for growing trees but our trees are being cut for firewood. Why can't the government look for other means to ensure that the land mass is not deprived of the trees to avoid erosion? The south-east of Nigeria suffers erosion with gullies everywhere. Our party is going to look inward on this. If you look in the north, there is a lot of desert leading to blindness, in the South; we have gas flaring which is enough to help us with other things for the benefit. The problem with Nigeria is lack of effective leadership. We are considerate about the development of this country. We are going to put things together and make the people enlightened about the situation.  
DARA : When on 9th of April, I get elected, the first public officer I would like to meet is the Surveyor-General because I realize in my interaction with government staff that we do not have full scale geophysics survey of Nigeria. We do not have master plan for the country. Every region of the country is supposed to have a blueprint and a master plan to assist in development. With this, you can manage land use, building of infrastructure and the likes in a systematic way. The hazards on our environment is because we are not pro-active. I would strengthen our environmental laws to ensure that environmental challenges are brought under control.  
UTOMI : Human progress cannot be sustained unless we change our attitude to the environment because it is the bearer of life. Our institutions are so weak that we allow things to happen carelessly and we are paying a huge price for it. Where else do we see the way our oil companies operate in Nigeria? We saw the price that BP had to pay for oil spillage, but does it happen here? We can establish rules and boundaries for the operators of the sector. We do not have the institution that can respond the way the Americans responded and everyday, lives are being jeopardized in the country. In the last year or two, Nigeria has been 'depopulated' several times because they were attending conferences on the environment. What has happened since they came back? Where are the high-powered implementation committees that took decisions at the summit and translating them into laws to better the way of life of our people? Our governors went for climate summit. We must ensure that our government gives life to the people.  
What accelerated development initiatives would you pursue and implement for Nigeria?  
UTOMI : Nigeria was not ranked among the Asian Tigers and the Asian Tigers were not even in the same league with Nigeria at that time .Nigeria was ranked with Brazil and india at that time. Nigeria has grown from the country of potentials to one that is not even considered seriously as far as human capital development is concerned. What happened in 50 years? It was a failure of leadership. We have countries that have oil and it has not brought them down. We talk about Malaysia every time forgetting that they also have oil which Nigeria helped them build. In Nigeria, we moved from the structure of government that ensured rapid development in the 1960s. There was development and healthy competition. Then suddenly came military rule which led to a centralisation with oil becoming a factor and as a source of revenue and Nigeria forgot how to do things right and we have been on a downward trend since then. Our challenge is to see that we do things right now and reversing this. We had Vision 2010 to turn us around. Now we have Vision 2020. We should stop coming up with grandiloquent ideas and face the business of giving life to the Nigerian people. This country can be great again.  
DARA : We are convinced that the building of infrastructure, development of human resources and growing of the economy are inter-related that if you do not manage one well, the others would suffer. One of the cardinal point in my party is to create a new order.   Why can't a state be self-sufficient with power rather than give out to the national grid? You cannot grow Nigeria today except you fast track the growth of our infrastructure. With world class infrastructure, the country would be opened to growth.  
NDOK : Nigeria gets 95 per cent of its income from oil. The problem is not that there is no money, but lack of expenditure management. It is because government is not considerate and lack effective planning system. You can industrialize every state in Nigeria with the oil. Then you can begin to look at other areas.  
How do you ensure that the academic calendars in the tertiary institutions are not disrupted?  
DARA : Funding of education is not the only problem we have. The present situation where Nigeria gets money from crude oil, prepare budgets and spend it will not take us anywhere. In fact the gap between Nigeria and the world would be getting wider and wider every year because that is not the way to mobilize resources. Nigerians don't have leaders who have a grand vision. Nigeria must have the culture of paying tax. The real formula is create wealth. Nigeria's education system needs private sector partnership. The solution for the country is to roll up our sleeves and work. Nigeria has one of the highest number of children who are not in school. We must strengthen the UBE law which makes education free and a right.  
NDOK : Education is human development. A nation which wants growth and does not look at education is not prepared and will fail. In Nigeria, the leaders are not prepared. Government is not bothered and that is the problem. I benefited from free education. Nigerians are prepared to pay a price for good education. Our teachers are not motivated and they need to be encouraged.  
UTOMI : we need to do with a number of prioritizing. One has to with education, the other has to do with how national income expenditure and how we spend it, then we come down to how to proceed. When we talk about education, the emphasis is always on tertiary education. Not long ago, our federal executive council talked about introducing a couple of new tertiary institutions. It is a non-starter. We keep focusing on tertiary education when the real problem is on primary and secondary education because if garbage comes out of these two, what would go into the tertiary institution is garbage. We need to ensure that we have live skill, not just ensuring the production of certificated illiterates. Public expenditure profile in Nigeria is a disgrace. See; let's stop putting money in drain pipes. In the 1960s, we saw how the South-west was transformed through education and we still feel the impact. The reason South-Korea has overtaken us today is the investment they made in education. Teachers would go through continuous assessment. Ideas must come into how you fund education. We need to redirect the people from the degrees and concentrate on skills. Education broadens the mind, but there is need for entrepreneurial skill. Primary education must lie in the domain of the local government.  
What will you do to stamp out corruption in Nigeria?  
NDOK : presently, salaries need to be restructured. Even the N18, 000 minimum wage is not adequate. Let pay be commensurate to work. Corruption has brought shame to our country. The only way we can stop corruption is to make everyone who is involved pay, whether they served now or before. We are ready to partner with all those who have the interest of this country at heart.  
DARA : The only way we can do things right is to have a leader who leads by example, not one who decides to privatize things and make them available to himself. We are determined to clean up the mess. The way to fight corruption is to find a leader who can lead by example. You cannot be saying you are fighting corruption when you are building your house on a hill top. You want to privatize company; you are scheming to acquire it to yourself. There will be strong legislation to strengthen our anti-corruption agencies. We must be very ruthless. I will expand the jail and make sure that without any option of fine, they languish in jail.  
Utomi : the president of Botswana once said that the problem of Nigeria is the lifestyle of the politicians. We all watched him, went away and did little about it. The media watch politicians live other than a simple life and there is very little said or done about it. There is no human being who can ever stand up in Nigeria to say I have ever taken a bribe. If the rule of law exists and anybody sees that if he crosses the line, he would be held responsible, he would desist. The reason why it thrives is because many corrupt people get away with it.