NFC MOST CELEBRATED COUPLES IN SHOWBIZ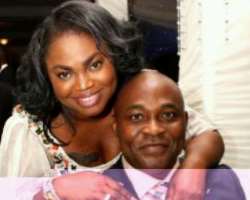 For a marriage to stand the test of time, trust, friendship, love, respect and understanding plays a vital role. Break up is said to be the hallmark of celebrity marriages all over the world. After the glitz and glamour of the vows that got the world really wowed with fascinating and flow of emotion, what seems to follow naturally are curse and lawsuits.
Some marriages collapsed due to spouse's inappropriate behavior that led to marriage scandal headlines. Some spouses tried to justify their hurtful acts and bad decision while other humbly acknowledge their failures and mistakes.
Over the years, we've seen and heard of divorces of famous couples's i.e. Segun Arinze and actress Ann, Femi kuti/funke, Godwin Alec/Kefee, Kenny Saint Brown/Eddy Remedy, 9ice/Tonie Payne, Monalisa Chinda/Dejo Richards, Soul E/Queen ure ,and Saheed Balogun/Fathia, Among others.
All this break up makes people over generalized that celebrity couples marriage don't last the test of time no matter the level of commitment. But contrary to this assertion, few celebrity couples in the showbiz have exhibited what a true role model is all about and have shown marriage can indeed work for celebrities just like any other people.
Here are Nigerianfilms.com Celebrity couples making it out against all odds.
 Olu Jacob / Joke Silva
It's not often you find couples who are driven by the same motives, sentiments e.t.c But for this two lovebirds, they've made it possible. These veteran Nollywood stars met in 1981 and cupid went to work, ever since their hearts have been bleeding for each other.
 Patrick Doyle / Iretiola
Iretiola married a simple and easy going person. Both man and woman are gems of the Television and movie world where they met. Iretiola started work with Patrick Doyle media as a part time staff while in school, along the line, one thing lead to another and the rest is history today.
 Richard Mofe Damijo / Jumobi Adegbesan
Following mee's death in 1996, RMD remarried in 2000 and got the lady half of Nigerian men were lusting after, Jumobi Adegbesan who was a presenter on Africa Independent Television. Their tradition engagement ceremony which was well attended by the cream of the Nigerian Society and Solemnize by Chris Okotie at the household of God, Oregun still remain one of the glamorous wedding of all time
 Isacc Moses / Nneka
Nneka and Isaac Moses are ambassador of culture and tourism with the television programme Goge Africa, beyond their captivation and spirited performance, their closeness as a couple and compatibility still dazzles many till today, they met on the set of movie called love in vendetta 1996, he was supposed to be her boyfriend on the movie and at the end of the day they carried the role beyond the set.
 Tunde / Wunmi Obe
These couples are one of the most celebrated couple in the entertainment industry, they've being together for some time now, and their love life is still growing stronger
 Collin / Mercy Akide Udoh
Mercy Akide married to Ace Journalist Colin Udoh she is a Nigerian Ex football player. She was the first African woman footballer of the year (2002) and was a 1999 and 2004 FIFA World all stars. They've being married for some time now, and their love is still waxing stronger.
 Daniel Doris Simeon Ademinokan
Doris simeon is a classic beauty with acting skills, married to the ACE Director Daniel Ademinokan, and their union is blessed with a prince charming boy. These two love birds are envy of many in the movie industry.
Do we miss any?