WHY I AM THANKING GOD FOR GIVING US THE PDP?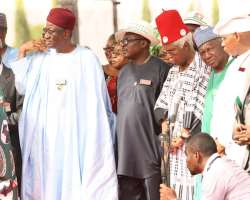 ''Gratitude helps you grow and expand; gratitude brings joy and laughter to your life and into the lives of all those around you'' Eileen Caddy.
''Develop an attitude of gratitude, and give thanks for everything that happens to you, knowing that every step forward is a step toward achieving something bigger and better than your current situation'' Brian Tracy.
''Rejoice evermore. Pray without ceasing. In everything give thanks; for this is the will of God'' Holy Bible 1 Thessalonians 5.16-18.
''Therefore, remember Me, I will remember you, and be grateful to me and never be ungrateful'' Holy Quran Suratul Ibrahim verse 7.
Pondering deeply on the above quotes on gratitude and looking at all these vis-à-vis the penchant of some of our people especially politicians to deliberately or ignorantly ignore the little favours God has done in the life of this country one cannot but feel the serious urge to try and put the record straight.
Yes just like any nation or man, Nigeria has had her fair share of weaknesses or trouble which has hindered her smooth progress, but trouble and challenges are what invariably makes one a better man or Nation. Tell me that great Nation on planet Earth today which had not gone through one tribulation or the other. And should we now say because we are yet to get to our desired destination we should not acknowledge the progressive steps we are taking and had taken. To fail to show gratitude for the little favours God is doing in our life is the hallmark of irresponsibility & shortsightedness.
PDP under the leadership of Obasanjo, Yar'adua and now Jonathan has done remarkably well if one compares their effort against the enormity of the problem that confronted this great country when PDP came to power in 1999.
Having not willing to bore you with the past, I believe you will remember the past by the time few of PDP achievements are enumerated.'' It is only those who are capable of great deep thinking that will be capable of showing gratitude'' says a Yoruba proverb. ''And he who is ungrateful to man will never be grateful to God'' says another.
As for me I thank God for the PDP.
I thank God for the PDP even as I pray & work for greater improvement in the overall affairs of the country.
The party that is truly Nigerian and truly National.
North ,West, East & South it is PDP all the way.
It is not sectional, neither is it regional.
It is not tribal nor ethnical.
It is for the Muslims so also for the Christians.
It is neither own by one man nor by a single group.
Peopled by all the various groups of people that make up the country called Nigeria.
It's strength is the strength of the Nigerian people.
It's weakness is the weakness of the Nigerian people.
It's promises is the promises of the Nigerian people.
It's challenges is the challenges of the Nigerian Nation.
It is not a local champion nor an ethnic jingoist.
It is a truly National champion.
It is the only party we can truly call the Nigerian party.
PDP gave us the EFCC without which Action Congress of Nigeria[ACN] will have no Presidential candidate.
PDP gave us ICPC as well to combat corruption.
PDP was instrumental to the $18 billion debt forgiveness that Nigeria got from the Paris club.
The unprecedented peace which the amnesty in the Niger Delta has achieved is the handiwork of the PDP.
The Great Mobile Telephone[GMT] revolution of which today Nigeria is the leading market in Africa is another work of the PDP.
The PDP is also responsible for the solid professionalism being exhibited by The Nigerian Armed forces now through the great turnaround in terms of adequate training and funding.
PDP doing what is right makes coup-de tat absolutely unfashionable in our land again.
PDP brought due process in procurement and award of contract through the establishment of Bureau Public Procurement saving the country huge funds.
PDP handling of the electoral process is commendable, from the appointment of Attahiru Jega to the level playing field and in spite of the few hiccups opposition parties are fully involved as option of boycotting as common in some part the world is not even thought of nor considered.
Even as some may envy or vilify.
PDP exhibiting maturity even as some opposition parties behave like a nagging wife who never sees anything good in a devoted husband.
Even as some may demonize in other to make political gain.
The PDP is surely a unifying bond which has the room and space for all to come on board and make the best out of it and the country.
Those who fail to thank God for small things will never be grateful for big things.
I am not an ingrate so I am thanking God for giving us the PDP.
Easier said than done, the sensitive act of balancing the various need of an heterogeneous society like Nigeria is so precarious that it takes only a behemoth like PDP to handle.
We have seen how the opposition fare in just the conduct of their primaries not to talk of managing the entity called Nigeria. Ordinary alliance they failed to form due to individual greed and ambition.
If it were truly about Nigeria why was it difficult to come together to form alliance against PDP? Hypocrisy some will say!
Managing a state or two is different from managing a complex entity called Nigeria. In one end you speak oxford English you are hailed while at the other you are rejected for speaking too much ''Turrenchi'' With enough brilliance your being in power will be accepted as an act of God in one end while at another end they will tell you, ''Na only you?'' That is Nigeria and that is what we are and we love it but you will need the maturity of PDP to manage that.
Had it been another of those mushroom party perhaps they would have plunged us to anarchy, tribal, ethnic or civil war.
I thank God for the PDP.
And I thank God for the PDP ticket.
I thank God for the unifying ticket, stabilizing ticket and also the ticket to the future.
Surely the Transformation is here!
Adetunji T. Dolapo wrote from Abuja.

Disclaimer:

"The views/contents expressed in this article are the sole responsibility of the author(s) and do not necessarily reflect those of The Nigerian Voice. The Nigerian Voice will not be responsible or liable for any inaccurate or incorrect statements contained in this article."
Articles by thewillnigeria.com