Jonathan Sets Up Presidential Committees To Raise Security Awareness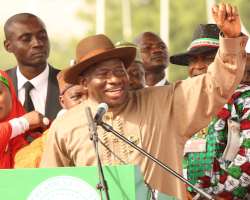 PRESIDENT GOODLUCK EBELE JONATHAN.
SAN FRANCISCO, March 30, (THEWILL) - President Goodluck Ebele Jonathan has said his administration remains irrevocably committed to its constitutional role of securing the lives and property of all Nigerians, and has urged Nigerians to be vigilant and report suspicious characters considered as security risks to the appropriate security agencies.
He stated this today inside the State House, Abuja while inaugurating two Presidential Committees aimed at re-appraising ongoing reform strategies in the nation's Public Service towards enhancing service delivery as well as improving security consciousness among the citizenry.
They are the Presidential Committee on the Review of the Reform Processes in the Nigerian Public Service, and the Presidential Committee on Public Awareness on Security and Civic Responsibilities.
President Jonathan said the Presidential Committee on Public Awareness on Security and Civic Responsibilities became necessary because of his administration's determination not to allow current security challenges degenerate into unmanageable proportions, hence the committee exists to sensitise the public on issues of security and civic responsibilities.
The President noted that while peace and security are essential in nurturing a virile and durable democracy, some major security challenges such as intra and inter-party conflicts, socio-economic agitations, ethno-religious crises, civil and organized rebellion, and outright criminality, are capable of subverting the democratic process, especially with the general elections around the corner.
He therefore described the committee's establishment as a decisive step of his administration to engender communal commitment and informed patriotic response by all Nigerians, "in the interest of our collective security."
The 19-member Committee under the chairmanship of Dr. Lateef Adegbite has the mandate to re-appraise existing strategies on raising awareness on potential security threats in the country; map out strategies on a regular basis and create structures at the three tiers of government on how members of the public including civil society organizations can identify and deal with suspicious movements through effective communication, planning and public awareness programmes. It will also develop curricula to raise security and safety awareness in all educational institutions in the country.
Its members include retired deputy inspector general of police, Mr. John Ahmadu as deputy chairman; Amb. Stephen Willoughby; Prof. Godswill Obioma; Alhaji Najib Adamu, Emir of Kazaure; Eze C. Ilomuanya; Hajiya Bilikisu Yusuf; Archbishop Josiah Fearon; Comrade Shehu Sani, Mr. Gbenga Adefaye; and Mr. A Nyam.
Others are Captain C.O.R. Ezekobe; DCP Clement Adoda; Mrs. Marilyn Ogar; Mrs. Wasilat Ikharelu Audu; Mr. Okeh Emmanuel; Mr. Yusuf Aliyu Addy; Alhaji Abdullahi Umar; a representative of the office of the Secretary to the Government of the Federation; and Alhaji Idi Farouk as Secretary.
Explaining the rationale behind the establishment of the Presidential Committee on the Review of the Reform Processes in the Nigerian Public Service, President Jonathan said it was out of the need to reposition the public service as a world class service provider that will accelerate national growth and development.
The President noted that "the developmental challenges Nigeria faces today is inextricably tied to the capacity of Nigeria's public service to deliver promptly and efficiently the public goods that Nigeria needs to achieve evident accelerated development."
As part of the terms of reference, the 16-man Public Service Committee chaired by Alhaji Adamu Wazirin Fika is to undertake a study of the previous Public Service Reforms, assess their impact and also examine the structure of MDAs in relation to manpower utilization for effective service delivery.
Members include Mrs. Francisca Emmanuel as Vice Chairperson; Mr. Peres Ayoola; Dr. Aliyu Modibbo; Ms. Ama Pepple; Mr. Steve Oronsaye; Alhaji Abdullahi Musa Magaji; Mallam Abubakar Gimba; Dr. Hakeem Baba-Ahmed; Mrs. Ammuna Lawal-Ali; and Mr. S.O. Adekunle.
Others are Dr. Sam Amadi; Prof. Murtala Balogun; Mr. Paul Ibeku; Deaconness J.O. Ayo; and Dr. Tunji Olaopa as Secretary.