ARIVERS GUBER:IT'S PAYBACK TIME-AMAECHI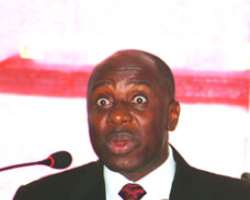 How do you see the mudslinging trailing the campaigns?
Our opponents are not addressing issues. Instead, they are abusing us.
Is it not mere politicking, to draw you out?
Okay, they have drawn me out now. I told them that I am as young as they are whatever they say, I can say it back to them.
At the rally in Okrika, you said it was payback time for Okrika people. Could you clarify that statement?
I left the University in 1987. By 1988, I started working with Chief Rufus Ada George and Dr. Peter Odili. Chief Ada-George was an aspirant in our camp running for governorship. Sergeant Awuse was an aspirant in the SDP and because Ada-George was from Okrika, my people felt that it was wrong for any Ikwere man to support an Okrika man But I dared it and supported an Okrika man and Chief Ada-George became governor.
One day, we went to elect officers of the party at the LGA level and I dared contest for secretaryship. They could not take that. When I arrived for the election, they began to beat me. I was admitted at a clinic. The following week, the election was on, I came, ran and won. So, that was one vote for Chief Ada-George because the secretary was an automatic delegate to the governorship primary. They were surprised that I came after they beat me up the previous week. So, that is what I mean by payback time. If I supported your son to be governor, it is your turn to support me and this, time there will be no violence, nobody is beating them for supporting me.
How do you see the challenge and opposition from that area?
Their son was launching a campaign in Port Harcourt. You would expect that by the time we arrived Okrika, we would not see the kind of crowd that we met on ground. The fact that we saw that kind of crowd was a surprise to me. It was courageous that we hired NTA and AIT to show it live.
Was televising it live strategic?
No
Were you actually expecting such a crowd?
Yes. You listened to them now. Was I the one that was saying they lost so many persons, there was no security in the past, etc? Okrika was a war zone. Chiefs were flogged, bishops were…I don't want to go into the details. You better ask them. It was when I came that I imposed a curfew, chased away the criminals that they had trained and kept in the place, and went after their guns that they were liberated. You can ask them. You heard them speak, one after the other. You heard the woman, who said they found it difficult going to ease themselves because of fear of being attacked.
The chiefs did not applaud or seem not to agree with what Chief Ada-George said…
How can you say a thing like that? The chiefs will naturally not clap for anybody. If the chiefs were against what we were doing, they would not have come to the place. Do they go to every rally they see? Usually, what we do is we don't invite chiefs, we go to see them, but they followed us.
Apart from supporting their son to be governor in the past, what have you done for Okrika since you assumed power?
You heard me speak, when I said let their son come and stand and tell us what he had done for Okrika. Their son was SSG and a minister. I say to people that today, I have done just two roads in my local government area as governor. The second one is I am rebuilding the road in my village. The rest roads were done when I was a speaker. So as SSG, why didn't he attract those things to his community? The Ring Road we drove on today was built by this government.
Is their support for you against their son not strange?
There is nothing strange because the community of Rivers people have always known me to be straightforward, honest and some even accuse me of being brash. I said it at one of the rallies: 'I will not stop saying the truth because somebody say I am arrogant. You listened to the state chairman of the party. The difference between me and other politicians or governors is if you meet other politicians or governors and say I want you to buy me a house, he would say 'what are you doing next Friday?' You would say, 'I am around if it is in the house I will come so that you will give the money.' You come next Friday, they would say 'Ah, governor has gone to Abuja.' You will go. You call him on phone, he would say 'Oh, I am in Abuja, can you come by April ending?' You come by April ending, they will say the governor is in Lagos. You will be coming until you get frustrated and give up.
But if you tell me now, 'build a house for me.' I will ask 'from where, my salary or government money?' If you say government, I will say 'how, which law?' If you say my salary, I will say 'okay, wait till month end' and I will give. I won't say come Monday, Tuesday or Friday and make sure you don't see me. The difference is that will say 'this is man honest but if he gets to power, he will change.' I am sure that three years down the line, they are surprised that I am still the same person and I will not change.
At the rally, a female member of the House of Assembly said she was disaffected in the PDP but would not leave the party.
What have you done to reconcile aggrieved members of the PDP?
The only member who was disaffected that we have not reconciled with is the former Minister of Transport, Abiye Sekibo. Chief Austin Opara is still with us, he is the chairman of the reconciliation committee.
At a press conference in Lagos, Sekibo alleged that your government frittered away N980 billion of the state in three years…
You should ask him whether it was frittering away Eleme Junction that used to keep people lying down there till 3.a.m everyday for N7 billion or the mono-rail that is going under N49 billion or the secondary schools that we are building -now it is N4.5 billion because we are increasing the capacity to 1000 students. We are building 24 of such schools and if I win a second term, I will build another 24 to make them 48. Anybody who sees it will say 'Oh, you can turn it into a university, polytechnic, etc. I just showed a bank how our university is going to look like. They are doing the infrastructural work -water, roads, electricity, etc. When they finish, we will start building.
Ask him, he lives in Abuja, he does not know what is going on Port Harcourt. He just came back a few months ago to run for governorship. The difference between us is that when he served as SSG there was nothing called due process. Here, there is procurement Law, which we now refer to as due process. We hired the expert from a bank and said if you save us XYZ, you get XYZ, your job is to save money for us. If you apply due process and save XYZ, this is the commission for XYZ. To make sure that saves money give him something that will induce activities in his budget so that he can actually protect government resources.
Tell him that part of the funds we are spending is as a result of his activities in Okrika. The insecurity in the state started from Okrika and we are spending huge amount of money trying to protect the state. So, if he didn't cause us that problem, we won't be spending money looking for criminals, buying equipment for the police, etc. Virtually, all the vehicles that they are using, we bought. You saw APCs, we bought more than 10. Before he became SSG, Port Harcourt was quiet. It was after him that we ran into crisis. We bought vehicles for joint patrol between the Police and the Army. Even the Air Force and Navy joined in the patrol to get Port Harcourt to the situation it is now. Who caused it?
But you were part of the government then?
You heard me say today, live on AIT, that they should ask the former governor. I went to him to complain and I said 'I don't like the way people are being killed in Okrika.' My wife was the first person that said it at the rally. I was very frustrated and I told my wife, 'you cannt replace life, there is no duplicate. If we burn down Government House, we can rebuild it. If we burn the state House of Assembly, we can rebuild it, but if you kill, you cannot replace life.'
Why don't you ask: 'where is the Ijaw National Congress (INC) President?' He is in Paris. We flew him to Paris. Just because he was supporting us, organising the Ijaws for support, he was shot. If I didn't fly him overseas he would have died. He was organising Okrika people and the riverine people, saying, 'we have no other candidate whether our son is running or not, our candidate is Amaechi.' He started receiving threat messages. Then, he went to Yenagoa, on his way back from Yenagoa, he was shot. I was here when they called me that if we didn't fly him out that night he would die. That same night, I had to hire an air ambulance to fly him to Paris.
I don't like discussing the last government because Dr Peter Odili is my mentor. He is my former boss. If Dr Abiye Sekibo was facing issues, we won't be discussing the last government. That was why I say, 'can we please address issues?' But because he is not addressing issues that is why you see us talk about this. I am reminding him of all these because he is throwing stones that he should not be throwing.
How much of a threat is Sekibo to you?
He is no threat
We saw so many people in his campaign vehicles heading to Okrika from his rally in Port Harcourt…
So many people? There were three buses. Let's assume there were 50 persons per buses, multiply three by 50, you get 150. Didn't you see more than 150 persons at the rally? When we were going, we saw three buses leaving Okrika. Okay, let's say each bus took 100 pers ons, did you see just 300 persons at the rally? Is that a threat? That is why I said they should shown his rally live to see whether they can fill the stadium.
Anytime we hold a rally at the stadium, the sitting capacity is 16,000, we fill that with over 10,000 persons standing outside and inside. At the presidential rally, you saw the crowd, over 27,000, even if there was a stampede…