APRIL POLLS: ONI'S WIFE LEADS PDP WOMEN PRAYER FOR PEACE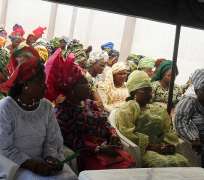 Ahead of the next month general elections, wife of Chief Segun Oni, former governor of Ekiti State, Mrs. Olukemi Oni today, led Peoples Democratic Party (PDP) women in the State in a two hours prayer session for peace in the State before, during and after the elections. The prayer session, which was held at the Ifaki Ekiti Country home of the former governor, was graced by over 300 women, including the PDP Women Leader, Mrs Dupe Adeyemi, wife of Oni's deputy and Princess Oluwayemisi Lawal.
Pastor Kehinde Sijuade, who officiated during the prayer session, urged the women to impress the need to maintain peace during the elections on their husbands and children.
He said God wrath would be on anyone that was planning to cause violence and bloodshed during the elections, adding that; "Our God is a god of peace. He abhors violence and bloodshed. Therefore, anyone that is planning to perpetrate violence and shed the blood of Ekiti sons and daughters during this election period will face the wrath of God."
Speaking on why the prayer was organised, Mrs Oni said; "We in the PDP believes in the efficacy of prayers. We do not have any other gods that we can turn to in a time like this other than the Lord of host, who is the only one that controls the minds of men.
"Today, we are already being told that some people have procured fake police uniforms and arms with which they intend to secure victory at the polls by force. People are already being killed in Ekiti and in a frightening situation like this; we have no other option than to turn to God for protection and for peace to reign in Ekiti and Nigeria during and after the election period.
"We will therefore continue to commit our lives and those of our husbands and children to the hands of God and seek God's intervention in the affairs of Ekiti in particular and Nigeria in general.
Also speaking, the PDP woman leader, Mrs. Adeyemi said; "PDP is a party of peace and that we have demonstrated in the past. We are only praying that those in the Action Congress of Nigeria (ACN) that are already stockpiling arms and fake police uniforms to unleash terror on Ekiti people during the elections won't succeed."
Mrs Adeyemi, who called on law enforcement agents in the State to be alive to the duties added that; "If police in the State are already saying that they knew that fake police uniforms have been procured by politicians and they are not doing anything about it, the only option that we have is to pray to God that He should prevent bloodshed in Ekiti and put to shame those planning to cause violence during the elections."