Protect Your Voter's Card, ACN Admonishes Nigerians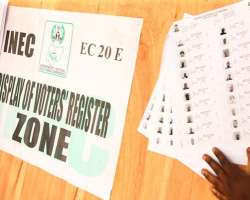 ABUJA, March 29, (THEWILL) - The Action Congress of Nigeria (ACN) has alerted Nigerians to a scheme by some unscrupulous and desperate politicians to massively purchase or out rightly steal voter's cards from unsuspecting Nigerians, in the run-up to the general elections starting on Saturday, as a way of disenfranchising as many people as possible in areas where they believe their party is not popular.
In a statement issued in Lagos today by its National Publicity Secretary, Alhaji Lai Mohammed, the party said the do-or-die politicians have allocated 90 million naira for the purpose of buying the cards off as many people as possible in some parts of Jigawa State alone.
''The idea is for the desperate politicians to use their ill-gotten money to buy the cards from poor and barely-educated voters, with the intention of destroying them so those affected will not be able to vote. Also, they are stealing the voter's card's number of as many unsuspecting people as possible, as part of their scheme to thwart the will of the people in the elections,'' it said.
''To Nigerians, therefore, we say protect your voter's card. It is the only power you have to show those who have mismanaged the affairs of your country that they cannot continue to hold sway, just as it gives you the opportunity to reward those who have delivered the dividends of democracy and make life worth living,'' the party said.
''We are also alerting the local and international observers to pay attention to this anomaly when carrying out their election monitoring duties, as election rigging is not carried out on election days alone.
''We also hereby call on INEC to urgently investigate this and help nip it in the bud, as part of the commission's much-trumpeted efforts to make the polls free, fair and credible,'' ACN said.
The party said the purchase of voter's card is undoubtedly linked to the acquisition of illegal funds which those in question used to fund their electioneering campaign.
''It is possible that the billions of naira schemed off from an illegal and economically-destabilizing rice waivers granted by the PDP-controlled federal government, as well as similar deals linked to the importation of kerosene and diesel - which is believed to be responsible for the skyrocketing prices of the petroleum products - constitute the source of the funds now being deployed to thwart the people's will by the unscrupulous politicians, much as their spokespersons are quick to dismiss this!'' it said.
ACN insisted that Nigerians must be allowed to cast their vote peacefully and for the candidates of their choice without any inducement, harassment or intimidation whatsoever.