Oyin Adenuga and Wole Aboderin pictured together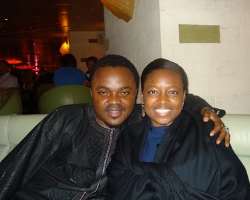 Don't mean to cause any drama oh, but ever since I put up the Oyin Adenuga/City People interview
(click here if you missed it), , I've been getting emails from quite a few people. Friends of Wole Aboderin swear the two dated and sent me some pics to prove it.
Being pictured with someone doesn't mean you are dating them...so...I don't know...you check out the pics and think what you like...:-).