LAGOS, CONCESSIONAIRE KICK-START FALOMO RAMP BRIDGE PROJECT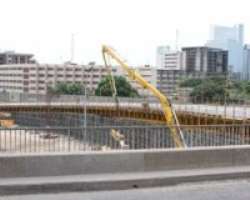 OBLIGED to ease traffic congestion on the Victoria Island axis, Lagos State Government has formally kick-started the construction of a 115 metre on-ramp bridge, which would link Ozumba Mbadiwe road westbound to Falomo Bridge on Victoria Island.
The project is being handled by Lekki Concession Company (LCC).
Specifically, the ramp bridge upon completion would ease traffic at the Adeyemo Alakija intersection. It is packaged under a Public Private Partnership (PPP) between the Lagos State Government and LCC.
Lagos State Governor, Mr. Babatunde Fashola, who spoke at the official sod turning of the project, said that the bridge, which has backing of the Federal Government, attests to his administration's promise of improving traffic management within various parts of the state.
The governor, who said the project is part of the ways to better the lot of Lagos residents, explained that the new ramp is also part of the deliverables of the Lekki- Eti-Osa- Epe road, which would help to decongest traffic, especially at the intersection between Ozumba Mbadiwe and Adeyemo Alakija Street on Victoria Island.
'The construction of this bridge, which is 12 metres wide and 115 metres long is another added advantage to the repaired road network to Lekki. Lagosians will not have to wait for ever to have the best and this is another sign to show the government's commitment to help find solutions to the people's problems,' Fashola stated.
Managing Director and Chief Executive Officer, LCC, Opuiyo Oforiokuma, while fielding questions from the media, explained that the structure rests on a low abutment at the eastern end and links with Falomo Bridge on a joint, resulting in zero forces imposed on the existing bridge.
He said; 'The Bridge is a landmark development in the quest for delivering better and world class infrastructure in Lagos. The up-date structure design makes use of a modern technology to reduce cost, improve traffic flow and ensure road safety for all road users.'
He added that the bridge would be furnished with streetlights, traffic lights, pedestrian walks, and road safety signs.
In order to curb anticipated complication in traffic management at the intersecting point between the two roads, the LCC boss explained that the team had already contacted relevant authorities about the envisaged problem.
According to Chief Technical Officer, Hitech, Mr. Ivan Bekker, 'The designed bridge structure comprising of a inclined surface connecting two levels, is a post-tensioned continuous deck of approximately 115 metres in length, and sited on five piers, each resting on four piles.