OBAMA DEFENDS U.S. ACTION IN LIBYA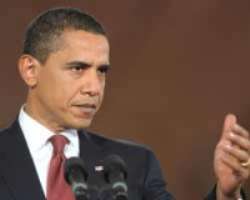 UNITED States (U.S.) President Barack Obama has said American forces would not get bogged down trying to topple Libyan leader Muammar Gaddafi, but stopped short of spelling out how the military campaign in the north African country would end.
Hours after, well armed and organized troops loyal to the Libyan strongman reversed the westward charge of rebels as world powers met yesterday to plot the country's future without the 'brother leader.'
In a televised address to the nation on Monday night, delivered in front of a respectful audience of military members and diplomats, Obama vigorously defended American attacks in Libya, saying 'Some nations may be able to turn a blind eye to atrocities in other countries, but that the United States of America is different.'
The American leader said his country had a unique ability to stop the violence, an international mandate and broad coalition, and the ability to stop Gaddafi's forces without sending in American ground troops.
'And as president, I refused to wait for the images of slaughter and mass graves before taking action.'
He declined to label the U.S.-led military campaign as a 'war,' but made an expansive case for why he believed it was in the national interest of the United States and allies to use force.
Obama announced that the North Atlantic Treaty Organisation (NATO) would take command over the entire Libya operation today, keeping his pledge to get the U.S. out of the lead fast – but offering no estimate on when the conflict might end and no details about its costs despite demands for those answers from lawmakers.
The United States is scaling back to a 'supporting role' to let NATO take full command from U.S. forces today, but air strikes by U.S., French and British planes remain key to smashing Gaddafi's armor and facilitating rebel advances.
Obama declared that the U.S. intervened to prevent a slaughter of civilians that would have stained the world's conscience and 'been a betrayal of who we are' as Americans. Yet he ruled out targeting Gaddafi, warning that trying to oust him militarily would be a mistake as costly as the war in Iraq.
Meanwhile, the mother of a Libyan woman who said she had been raped by pro-government militiamen said she had been asked to convince her daughter to retract the allegations in return for her freedom and cash or a new home.
Eman al-Obaidi burst into a hotel full of foreign journalists in Tripoli on Saturday and told them, weeping, how she had been held for two days and raped by 15 militiamen loyal to Gaddafi.
After being intimidated by security men and hotel staff, who also beat journalists trying to interview her in the restaurant of the hotel, she was bundled into a car and driven away.
Her allegations have not been independently verified. The government said on Sunday that Obaidi had been released and she was with her family.
Her mother, Aisha Ahmad, told journalists she had been contacted by the authorities about her daughter and how she could be freed.
In blunt terms, Obama said the U.S.-led response had stopped Gaddafi's advances and halted a slaughter     that could have shaken the stability of an entire region. Obama cast the intervention in Libya as imperative to keep Gaddafi from killing those rebelling against him and to prevent a refugee crisis that would drive Libyans into Egypt and Tunisia, two countries emerging from their own uprisings.
'To brush aside America's responsibility as a leader and – more profoundly – our responsibilities to our fellow human beings under such circumstances would have been a betrayal of who we are,' Obama said.
International leaders met in London yesterday seeking to plot out an endgame for Gaddafi's tottering regime and to strike agreement on plans for Libya's future.
UN Secretary-General Ban Ki-Moon, U.S. Secretary of State Hillary Rodham Clinton, the Arab League and as many as 40 global foreign ministers attended the talks.
Britain and the United States signaled ahead of the talks that they could accept a plan under which Gaddafi quickly leaves Libya and in return escapes a war crimes trial, despite a previous insistence that he must face the International Criminal Court.
Britain's Foreign Secretary William Hague, who hosted the summit, said that – while the UK hoped Gaddafi would face international justice – it was down to Libyans to decide his fate.
'Of course where he goes, if he goes, is up to him and the people of Libya to determine and we will not necessarily be in control of that,' Hague told BBC radio.
So far, the nation is split about Obama's leadership on Libya. Across multiple polls, about half of those surveyed approve of the way Obama is handling the situation. A Pew poll out on Monday found that the public does not think the United States and its allies have a clear goal in Libya – 39 per cent of those polled said they do; 50 per cent said they do not.