ACN Governorship Candidate in Birth Certificate Mess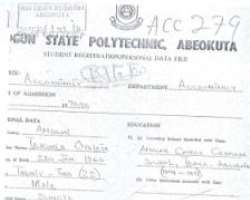 Lagos lawyer, Festus Keyamo, has petitioned the Inspector General of Police, Hafiz Ringim, over an alleged forgery of date of birth by an Action Congress of Nigerian governorship candidate. The petition states that Ibikunle Amosun, ACN candidate for Ogun state, has two dates of birth and so should be charged for perjury.  
  The petition the lawyer sent on behalf of the Democracy Watch Dogs states that "one Ibikunle Amosun who is the ACN Governorship Candidate for Ogun State in the 2011 general elections have been peddling different dates of birth (and by implication, two different ages) for a long time now."  
  Illustrating this, the petitioner further states that "sometime in 1982, whilst supplying personal details to his school as at then, the Ogun State Polytechnic, Abeokuta, Ibikunle Amosun gave his date of birth in his Student Registration/Personal data file as the 25th of January, 1960.  
  "He went ahead to support it with a sworn affidavit.  
 
"However, sometime in 2007, whilst supplying his personal details to INEC as the ANPP governorship candidate for Ogun State, Ibikunle Amosun gave his date of birth in INEC form C.F 001 (which he swore on oath) as 25th January, 1958.  
 
"Again, this year, 2011, Ibikunle Amosun, this time as ACN governorship candidate for Ogun State, filled INEC form C.F. 001 and gave his date of birth again as 25th January, 1958.  
  "Sir, what is clear is that since both dates of birth cannot be correct, then one is a lie and the other is true or a lie also. At the earlier opportunity in life, Ibikunle Amosun gave his date of birth as 25th January, 1960.  
  "The latter deposition, may therefore, be an afterthought and a lie. Since the deposition is on oath, it therefore follows that Ibikunle Amosun may be guilty of perjury.  
  "We wish to draw your attention to the fact that in 1999, at the inception of this latest democratic experience, one Salisu Buhari, Speaker of the House of Representatives, was removed as Speaker and removed from the House, arrested, charged and convicted on the same premise that he lied on oath about his age.  
  "Sir, we do not think our legal and moral standards for public officers have changed since then. If anything at all, the standards have gone up, because of the anti-corruption crusade. You may therefore wish to do yourself and your exalted office some good by immediately arresting, interacting and if possible, charging Ibikunle Amosun to court for perjury."