AMA .K. ABREBRESE WINS BEST ACTRESS AT THE 2011 AFRICAN MOVIE ACADEMY AWARDS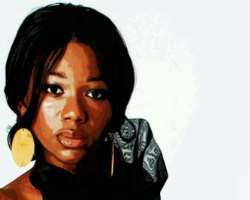 ACCRA, GHANA - Celebrated British TV Presenter cum Actress, Ama K. Abrebrese was the recepient of the Best Actress Award at the 7th Annual African Movie Academy Awards. The Ghanaian born Actress who was nominated for her outstanding performance in her role in 'Sinking Sands' emerged winner at the Awards Ceremony held on Sunday March 27th, 2011. Other nominees in the Category were Nigeria's Top Actress Genevieve Nnaji and Omoni Oboli.
A post event Statement sent to JMG MEDIA RELATIONS from the Award winning actress who was absent at the Event, expressed her profound gratitude to the organizing body of the African Movie Academy Awards committee and Director, Leila Djansi respectively:
"I am extremly thankful to God, humbled and blessed to be the recepient of the 2011 Africa Movie Academy Award for Best Actress in a Leading Role. I would like to thank the AMAA organisers for this Award and I thank Ms. Leila Djansi, for believing in my capabilities and casting me for the role in 'Sinking Sands'. She is a great visionary filmaker and a delight to work with. Portrayng the role of 'Pabi' in 'Sinking Sands' was an enlightening experience. I learnt a lot about myself and, the difficult subject of domestic abuse. The entire crew and cast that I worked with were amazing and I thank them, especially my co stars Jimmy Jean-Loius, Doris Sackitey and Yemi Blaq. I am extremly thankful to my wonderful family who keep me grounded and, support me in everything I do." - Ama .K. Abrebrese

The African Movie Academy Awards, popularly known as AMAA Awards, are presented annually to recognize excellence of professionals in the African film industry, including Directors, Actors, and Writers. The awards are aimed at honouring and promoting excellence in the African movie industry as well as uniting the African continent through arts and culture. Since its inception in 2005, the AMAA Awards has become the most prestigeous and glamourous event in the African Entertainment Industry.
Ms. Abrebrese is currently filming in Ghana starring alongside famed Hollywood Actress, Kimberly Elise. For more information about the Award Winning Actress, please visit her official