VOTERS ACCREDITATION: PARTIES AT DAGGERS DRAWN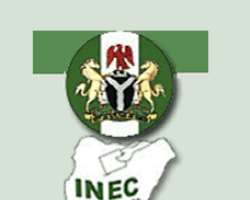 Political parties are at dagger drawn over pressures being mounted on the Independent National Electoral Commission (INEC) to shelve planned accreditation of voters before voting, as provided for in the Modified Open Ballot system of voting for the April elections.
While parties on the platform of a coalition of political parties were alleged to have met at the weekend with a view to rolling out a strategy aimed at shooting down the proposed accreditation of voters before voting during the coming elections, the proponents of the accreditation of voters are also promising a showdown with their colleagues who are against it.  
 Some of the political party leaders had prior to the meeting with the Independent National Electoral Commission (INEC) leadership last Tuesday , allegedly met with some leaders of Peoples Democratic Party (PDP) at Nicon Luxury hotel, where they were 'mobilized' to move against the Modified Open Ballot system, especially the issue of accreditation.
During the meeting with INEC leaders, Chief Udemba Chukwudolue, of National Solidarity Democratic Party (NSDP), Godswill Nnaji of Better Nigeria Progressive Party (BNPP) and the PDP had stoutly opposed voters' accreditation, a position that was overruled by the INEC Chairman, Professor Attahiru Jega, who said it was too late in the day to review the Modified Open ballot system.
However, the move to dissuade INEC from accrediting voters before election led to an uproar at the meeting, as it was met with stiff resistance by other parties, led by the Labour Party (LP), Congress for Progressive Change (CPC) and the National Conscience Party (NCP), whose leaders insisted and prevailed on the INEC chairman to allow accreditation to remain.
As at yesterday, it was gathered that some of the parties were planning a new strategy to mount a sustained campaign against accreditation of voters so as to force INEC to drop the idea. These parties were said to have met at a secret location with some leaders of the PDP and have struck a deal on how to move against the voters' accreditation.
Against this background, pro-accreditation parties, LP, CPC, NCP and Action Congress of Nigeria (ACN), yesterday warned that it would not accept anything short of Modified Open Ballot where voters would be accredited before voting commenced. Major proponent of the accreditation and National Chairman of the Labour Party, Chief Dan Nwayanwu and Yussuf Tanko, national secretary of National Conscience Party (NCP) said their parties and others would not allow rigging of any form, as the discarding accreditation portends.
Angered at the fresh plot by some of his colleagues to mount campaign against accreditation, Chief Nwayanwu, who pointed accusing fingers at the PDP as brain behind the plot said it was disturbing that parties, which claimed to have candidates for election could express opposition to accreditation of voters, INEC guideline for free and fair elections.
'The matter was discussed exhaustively during our meeting with Professor Jega but I am disturbed to hear that some of our colleagues are bent on opposing it, even after we have all agreed that it was okay to accredit voters before voting.
 'Even when one of those opposed to the accreditation raised the issue of senior citizens that would have to wait for a long time if accreditation was allowed, answer was well provided by the commission's chairman, who advised that elders could come for accreditation at 11:45am and then vote immediately or go back and come for voting after 12pm.