FG Must Rebrand Nigerian Universities - Head of Service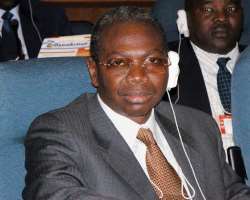 HEAD OF SERVICE, PROFESSOR DAPO AFOLABI.
ABUJA, March 27, (THEWILL) - The Head of Service of the Federation, Professor Dapo Afolabi has said that the Federal Government must conduct an urgent review of Nigeria's university system if the nation's failing ideals are to be put back on track.
The Head of Service, who spoke at a reception put together in his honour by some of his former school mates at the residence of Senator Bode Olajumoke in Abuja said that the universities were the driving force behind the nation's successes in the past.
He declared that the ivory towers lost the initiative along the line and that once the varsities get back on track, the nation's development challenges would get the desired solutions.
He said; "Something would have to be done to revive the university system. When we started in the past, money meant nothing to us. Today we want to go back to fix the universities so that they can lead the charge for the emancipation of our people. The hope of Nigeria is in the universities," he said adding that once the schools are back on the right track, Nigeria's development would remain assured.
"If the universities get it right, we will get it right as a nation. A lot of people are in the university system these days that have no business being there," he said.
The event, which was put together by a committee of friends, had in attendance the Chief of Naval Staff, Air Marshal Mohammed Dikko ,former Senate President, Adolphus Wabara, Chairman of LAUTECH College of Medicine, Dr. Muyiwa Oladimeji, Senator Tanko Ayuba, Senator John Brambaifa, Senator MT Mbu Jnr, Senator Bode Olajumoke and Senator Isa Mohammed among others.