BUSINESSMEN AND THE 2011 ELECTIONS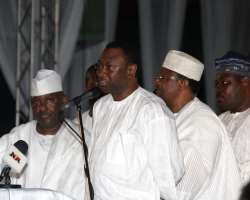 Government is big business and in Nigeria it is perhaps the biggest business in the land. Everyone has a right to take interest in how governments are constituted and the politics leading to their emergence, as well as the politics of their operation. As Nigeria prepares for the 2011 elections, and with everyone taking a keen interest in politics, political parties and the candidates, there has been the usual complaints in certain quarters about the overt interest being shown in the 2011 elections by businessmen, including direct, partisan participation in politics. The Business Day newspaper in an editorial on March 18 titled "Bankers' romance with politicians" protests the involvement of bankers in political activities as this open partisanship purely represents "speculative funding through loans that could attract a political backlash".

Quoting a CBN directive "barring all banks from participating in any political activity whatsoever", the newspaper urged the apex bank to stop the "ominous danger" posed by the growing romance between bankers and politicians. The CBN directive in question states inter alia that "no bank shall grant or permit to subsist, any loan, donation, gifts, or any form of financial accommodation to any political funds, political party, or for political purposes, whether directly or indirectly, incur any political expenditure". The key phrases in this regulation are "directly or indirectly". While it is understandable that depositors' funds should not be deployed to the speculative game of politics, it is doubtful if the CBN or any other regulatory body can stop any person from showing interest in politics or pursuing their own political objectives, or openly associating with politicians. It is the right of every individual to get involved in the governance process. What the CBN needs to be concerned about is the interest of depositors, and it can firm up its risk management and regulatory supervision processes in that regard. Definitely, the risk would be higher if banks were to use their funds to sponsor politicians.

The Business Day editorial seems to have been inspired by the concern that some bankers and other business people are getting involved in politics in order to outsmart their competitors and ensure survival. Indeed, recently, the ruling Peoples' Democratic Party (PDP) announced a nine-member finance and fund-raising committee to support the party's Presidential candidate, Dr. Goodluck Jonathan. The nine members of that committee are: former Chairman of the Nigeria Stock Exchange, Oba Otudeko, Atedo Peterside, Aigboje Aig-Imoukhuede, Funsho Lawal, Bola Shagaya, Tukur Mani, Tony Onoh, Funsho Awoyemi and the party's Director of Finance. The PDP has also put together a donor's committee comprising Otunba Mike Adenuga, Tony Elumelu, former Chairman of UBA; Jimoh Ibrahim, Chairman of NICON Insurance, Emeka Ofor, Kashim Bukar, Sayyu Dantata, Jim Ovia, Dahiru Manga, and Kola Salako. These are all very big business people within the Nigerian economy. The key questions raised by the protest by Business Day could be expanded thus: why should businessmen, including bankers get involved in politics? Does this represent an ominous danger? Is it illegal? Do other political parties have businessmen backing them? Or is every large business investor romancing the PDP for reasons of survival?

The first point to note is that there is nothing novel or unusual in entrepreneurs, big and small, romancing politicians and political parties. Where there are specific moral infractions, these can be identified and condemned, but to imagine that businesses would be completely apolitical may be unrealistic. As far back as the 1958 elections in the United States, American businesses had seen an urgent need to be political to enable them act as a countervailing force against forces that may make the environment of business difficult were those forces allowed to gain an upper hand. Two years earlier however, what seemed to be standard practice was that businesses engaged in politics from behind the scenes, in order not to offend their customers and constituencies who may have dissimilar political beliefs and affiliations.

There was nevertheless a growing awareness of the importance of politics to business as explained by the following passage taken from the August 27, 1956 edition of TIME magazine: "To improve the standing and increase the participation of businessmen in politics, General Electric recently sent 400, 000 management men and stockholders a pamphlet entitled "Political Helplessness of Business Hurts Everybody". G.E's main argument: "The big reason that union officials are thought to be so important politically while businessmen are usually so impotent is that rightly or wrongly the politicians figure union officials can and do influence votes, while business men can't and don't. The businessman who says he's not involved in politics is kidding himself-dangerously." Adds William Harrison Fetridge, vice president of Popular Mechanics and longtime Republican fund-raiser in Chicago: "No others have a greater stake in America's future than our business people. Yet it is my belief that with their "big-talk-little-do" platform they have abdicated their right to provide leadership in public life."

Over the years, American business interest in American politics has been more pro-active than hitherto, with bankers playing very frontal roles. The old wives' tale that parties are funded by struggling people donating small amounts is half-true, every party looks up to the business sector for funding and support, and business people looking for the survival of their own businesses are ever so willing to donate to political causes either "directly or indirectly." The Obama campaign got a lot of small dollars through internet donations but the main funds for that campaign came from Wall Street, particularly the banking and investment sector. Secretaries of the Treasury in the United States have often been persons from Wall Street with Goldman Sachs having a fair number of former executives in powerful positions in government than most. The UK Coalition government appointed Stephen Green, former Chairman of HSBC as Trade Minister. He didn't just get there. A study by the Bureau for Investigative Journalism released on February 8, 2011 has found that the City accounted for £11.4m of Tory funding – 50.79% of its total haul – in 2010, a general election year. This compared with £2.7m, or 25% of its funding, in 2005, when David Cameron became party leader. The research also shows that nearly 60 donors gave more than £50,000 to the Tories last year, entitling each of them to a face-to-face meeting with leading members of the party up to and including Cameron. Would it therefore be right to say that not being able to "differentiate between the public and private lives of these people" provides a justification to ask them to abstain completely from political partisanship?

When businessmen do not donate money, they get involved directly in politics and seek elective positions. In Italy, Silvia Berlusconi is a big businessman and also Prime Minister. He went into politics to save his businesses and his own neck. In Armenia, business owners run for congress in large numbers so they can influence business-related legislation from within. In Ukraine, businessmen who supported Victor Yanukovych's election as President got rewarded with cabinet posts as Ministers. Within a year of their being in government, their businesses made more money!

In Nigeria, businessmen cannot be blamed for seeking golden protection through involvement with politicians. That will be all too naïve! The Nigerian business environment is too volatile, and with government so powerful and omnipresent, it pays the investor community to establish access, influence and leverage with the government of the day. This however presents for each individual, a test of moral and corporate values to conduct himself or herself in ways that minimize or eliminate reputational challenges and this is best done through etiquette, compliance with electoral regulations and observance of industry/sector engagement rules.

Most of the people in the PDP donor committee, and the finance committee, it will be recalled, also helped to raise funds for the Obasanjo government in 1999, 2003 and 2007. Under Obasanjo, we saw the worst and the best kind of influence that business people can wield. A group called "Corporate Nigeria" openly raised funds for Obasanjo's Presidential campaign. Its members also donated generously to his Presidential Library Campaign Funds. At the time, many of Nigeria's big businessmen were rewarded with concessions and waivers, and like Yanukovych's business friends in Ukraine, they made more money. The same businessmen supported the Third Term agenda. One big businessman who openly criticised the Third Term agenda had the EFCC on his doorsteps one early morning. He was practically chased out of the country. As for the banks, government is still the biggest source of deposits in Nigeria. With a fragile economy, and a comatose manufacturing sector, the banks depend on governments for deposits. During the election season, they and their CEOs or directors keep a close watch on political currents.

The larger issue here, with specific reference to bankers however, must be the need to avoid the nexus established from past engagements where it can now be inferred that there exists a correlation between those banks that failed and those that 'invested in the then Aso Rock project'. The CBN directive must have therefore been inspired by the need to avoid situations where depositors funds are advanced, diverted or otherwise 'donated' to fund campaigns, speculative political activities or otherwise support processes that undermine the electoral process in any guise. That is good for all. What is worrisome will be a naïve approach to disenfranchise and otherwise exclude participation through legitimate and transparent means.

It is the PDP list of donor-seekers that has been publicized; virtually every other party is in romance with business men and women. The truth is that Nigerian businessmen and women have learnt to be just as cynical as the politicians. They are all playing smart trying to get ahead of the game. During every election season, they "support" political candidates considered critical to their interests at all levels: they "back" those with the likely potential to win and who can be useful to business later. Even small businessmen are not left out of the game. In the run up to the 2011 elections, there have been reports of market women declaring support for particular candidates at the local level. They know what they are doing. They don't want their markets to be demolished. They don't want their taxes to be raised. Okada riders, mechanics, food sellers all are involved in partisan politics. One popular eatery supplies free food and drinks to support political campaigns. Opposition parties may not enjoy as much patronage, but the test is the relative strength of a party in a particular area and the influence that it may wield over business. So there is no issue at all. The romance between business and politics is one of those things that everyone sees, but that they can neither stop nor investigate conclusively. Donations to political causes are not stated in financial reports: maybe this is where the CBN can devote its attention, finding out how the sums are accounted for, if they are hidden, or packaged as CSR.

The so-called regulation by the CBN with regard to the banks would indeed be difficult to enforce and quite frankly remains an advisory. And it is not true that the involvement of bankers in political activity would pose a threat to the reforms in the banking sector. In fact, it should help it. Nigerian politicians do not think hard and clearly enough. Entrepreneurs involved in politics can help shape policies that are beneficial to the economy. They can offer quality advice and help draft manifestoes that would open up the economy. What we are left with are the moral questions. Business people in politics should be motivated by the common good. They should not see their closeness to government or the party in power as an opportunity for selfish gains, or end up as fronts for corrupt practices, or abuse their privileges in any way. It is the abuse of what could serve as platform for leadership that we should be worried about. In Nigeria, when many business people get involved in politics, they over-dramatise the influence that they have with the people in power. There are big businessmen in this country who have cultivated the habit of dropping the names of the President and the Governors just to scare their competitors. There are those who are in it to get waivers and concessions for their own businesses alone. There are those who owe banks and yet continue to donate huge sums of money at political campaign rallies and hide under this leverage. There are those who are permanently on the Presidential entourage. Their vanity is laughable.

Where there are other stakeholders involved in such businesses that have been dragged into partisan politics, I can only urge that the shareholders should be the ones to be vigilant, and to take up any observed infractions at the company's meetings. The story is well-known of a one-time CEO of a big food and beverages company in Nigeria. He was very close to the corridors of power. He had the ears in particular of the then First Lady. He was visible at every government function, and oh, he was very supportive of government and attended all the social parties held by his friends in power. His generosity with company resources soon began to have an effect on the balance sheet. It didn't take long before the same shareholders who had admired the influence he wielded with government began to notice. He got carried away with politics, and kept his eyes off his primary assignment. He eventually lost his job, and when he did, not even his friends in politics could help him. This is the moral of the tale for all Nigerian businessmen in romance with politicians for the 2011 elections. Such a romance can never lead to a marriage; it usually remains a fling. Only those who learn to turn it into a platonic friendship survive. This is a needless controversy.
Reuben Abati writes from Lagos.

Disclaimer:

"The views/contents expressed in this article are the sole responsibility of the author(s) and do not necessarily reflect those of The Nigerian Voice. The Nigerian Voice will not be responsible or liable for any inaccurate or incorrect statements contained in this article."
Articles by thewillnigeria.com