Photos: Clinton, Schwarzenegger Arrive Nigeria For ThisDay Awards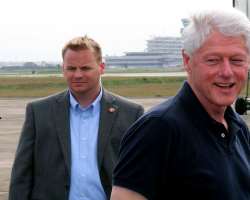 THE 42ND PRESIDENT OF THE UNITED STATES OF AMERICA BILL CLINTON AT THE PRESIDENTIAL WING OF THE MURTALA MUHAMMED AIRPORT ON FRIDAY MARCH 25, 2011.
SAN FRANCISCO, March 25, (THEWILL) – Former United States President Bill Clinton and former California Governor and Hollywood action movie star Arnold Schwarzenegger arrived in Lagos Friday ahead of the annual awards hosted by ThisDay newspaper.
Both men arrived separately at the Presidential Wing of the Murtala Muhammed Airport on Friday afternoon with Mr. Schwarzenegger arriving first.
Former Governor of California Arnold Schwarzenegger at the Presidential Wing of the MMA during his arrival.