Registration Materials Tampering In Ibadan: ACN Asks INEC To Clear The Air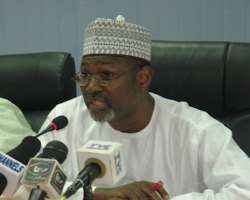 INEC CHAIRMAN, PROFESSOR ATTAHIRU JEGA.
ABUJA, March 21, (THEWILL) - The Action Congress of Nigeria (ACN) has asked INEC to explain to Nigerians what transpired in Ibadan, when some people were arrested for tampering with registration materials, with just two weeks to the polls.
THEWILL has however learned that one of the persons arrested is INEC's head of Information Technology Unit Mr. Osunlola Akinyinka, who has since been sacked from the commission by Chairman, Professor Attahiru Jega.
In a statement issued in Omuaran, Irepodun Local Government, Kwara state, by its National Publicity Secretary, Alhaji Lai Mohammed today, the party said unless INEC acts quickly to regain the confidence of Nigerians, who were shocked by the Ibadan incident, it will be difficult for anyone to have confidence in the ability of the commission to organize free, fair and credible elections next month.
It said the questions that INEC needs to provide answers to urgently include how the suspects got hold of the DDC machines and the voters' register that were found with them, on behalf of which political party were they acting and whether the DDC machines were among those stolen or not.
''We have read in the papers that the suspects were acting in collusion with the Peoples Democratic Party (PDP), but it will be important for INEC, acting with the police, to inform Nigerians whether this is true or not, and to reveal whether or not the Resident Electoral Commission for Oyo state was involved, in which case he will have to be sanctioned.
''It is also necessary for INEC to confirm published reports identifying one of the suspects as Osunlola Akinyinka of INEC's information unit. If this is true, what is INEC doing to put its unscrupulous staffers in check before and during the polls? And how pervasive is this kind of activity?'' ACN queried.
The party recalled alerting Nigerians to the dangers posed by the stealing of INEC's DDC machines at the airport, and INEC's assurance that the theft would not have any effect on the registration process.
''How can anyone believe INEC now, with the arrest of the suspects in Ibadan, who have reportedly tampered with the voter's register in 27 local governments? Can the electoral roll for these local governments still be trusted?'' it said.
ACN expressed serious concerns over the effect the stolen DDC machines, as well as those hijacked by some party chieftains during the voter's registration, would have on the forthcoming polls across the country.
''INEC does not have the luxury of keeping quiet on these and other issues, especially with the general elections less than two weeks away. We are therefore eagerly awaiting the commission's take on the Ibadan incident,'' the party said.