$200m fund: 'To move forward, we must fix piracy'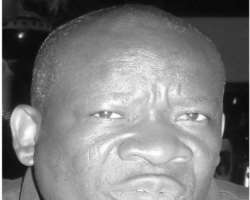 Special Assistant to President Goodluck Jonathan on Documentation and Strategy, Mr. Oronto Douglas, explains how Nollywood can access the $200 million loan promised the industry and emphasised that piracy must be dealt with first.
The dinner is first to thank you for what you have done particularly as Nigeria's cultural ambassadors, you have done so much for Nigeria no other single sector has been able to beat you. As laughter merchants, happiness generator and, above all, relaxation proponents, it is important that your importance in the industry and Nigeria's ascendancy and development be recognised and appreciated. I want to beg you not to relent because this is just the beginning. I am not new to the industry.
I recall in 2005, Peace Anyiam-Osigwe came to see me with a proposal. I was at that time Commissioner for Information and Strategy in Bayelsa State. It was my duty and responsibility to do what is good for Nigeria, for Bayelsa, particularly as it affects the Performing Arts and the industry generally. When the proposal reached my desk, I felt this is a revolution and we must support it. Indeed, I made recommendation to the then governor, Chief DSP Alamieyeseigha that this is a proposal that cannot be ignored. We have to support it and it is important that Nigeria take the initiative, take control of the process and drive it.
A lot of us do not know if the black man and the black world of Africa is going to stand up and be counted, the best way to drive that is through the Arts. If we do not support the Arts to drive the process of that change, we will not get there. So, fortunately, the governor, who is also very enthusiastic about the Arts, with his deputy at that time said, 'look, this is what we must do'. That deputy is now President of Nigeria, Dr. Goodluck Ebele Azikiwe Omoluabi Mai-nasara Jonathan. What is the President going to accomplish especially as it affects you? The first is the biggest threat to this industry, piracy. Why should somebody profit from what you create? If we do not fix piracy, we will not move forward. The second is resources for you to do what you want to do.
There was a pronouncement when the President came for the Silverbird 30th anniversary programme that an entertainment fund will be put in place. He announced $200 million for the entertainment industry. Before coming here, I called the Finance Minister because I would not want to be taken unawares. I said 'can you give me the brief of what you have done with regard to the directive of Mr. President'?. 'The $200 million Mr. President promised. There are some places that have not assessed the money. That who is holding the money and why are those who should benefit not benefiting from the money'?. This is what he told me. The first is that the total amount is $200 million not N200 million like some newspapers published a day after it was announced. And that the fund is coming from African Development Bank, ADB, which has already disbursed it. And that the money will be administered by the Bank of Industry supported by NEXIM. And that since the announcement, a meeting has taken place within the industry with a view to have an understanding and a value chain added to the process.
The Finance Minister said a meeting of the representatives of the entertainment industry took place with a view to have a common understanding on how these resources will be accessed. And that this will also be used for value added in terms of getting real value for those resources. He said that when this is completed, there will be a framework through which assessing the funds can be done. He used the words 'Bankable Proposals'. He said for this kind of proposal, the individuals applying are well known. The minister also said an advisory board is being set up and that the board will be made up of the people in Nollywood. That the advisory board is to ensure management of the resources in a way that everybody has access.
According to him, the resources are not only for Nollywood people, it also includes musicians and other artistes. And that generally, it is for the performing arts. And that the situation now is that in the next two weeks, (from March 4) this whole thing will be resolved because he is going to address a major press conference to announce it. But that you do not need to wait till all this is announced. The Bank of Industry said it already has some money set aside and that people can apply in the mean time.
The minister said that so far, some of those who have applied have just written one page saying I want money. There has to be proper proposal to state that this is what I want to do and this is how I want to do it. This is the result, this is how I believe I will be able to get back the money and empower myself and also be able, in a few years time, to pay back. All that, according to him, are some of the hiccups in the whole process. Just writing 'I want money' and sending the proposal to the Bank of Industry, will not get you the money. It is important that the Lagos Business School, LBS, which has been contacted to help those who want to access the fund, prepare or train them in proposal writing and so on.
According to the minister, it is also possible some of bureaucracy will be sidestepped if whatever proposal prepared is important to national interest, to the economic security of the institution or corporation or individual that are applying. This is the message that I got from the Minister of Finance on phone. Going forward, Nigeria has reached a very important path in our nation's advancement. We need to prop up our entertainment industry just like the United States; use this platform to evangelise the beauty, the glory of Nigeria. If we have to do that, you have to be supported. You cannot get a better person than President Jonathan who started supporting you while he was deputy governor. He is not a pretender to the industry. You have got to look at his track record, —where he is coming from, what he has done. If you want to judge somebody judge him from his record. That, to me, is the important step as we move forward at this level.