I don't have anything to flaunt – Vivian Anani Bankole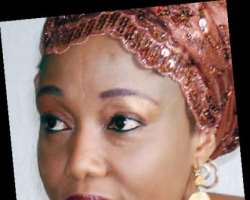 Vivian Anani Bankole, an actress, and a TV gal for long before opting for acting unveils to Adaeze Amos her lifestyle and why she can't be caught in weird styles. Excerpts:
Where are you from?
I'm from Ediba Abi Local Government Area of Cross River State.
Why is Bankole attached to your name?
You know when a lady is married, she starts answering her husband's name. Bankole is my hubby's name.
What was it about your childhood that made you happy?
Some incidents happened when my father was alive. He used to be a civil servant. He died three years ago. Whenever we were going home on holidays, I would be allowed to see my grand parents and I would follow them (my grandparents) to the farm. Then it was exciting to go because I would pluck maize, tomatoes, okra, harvest groundnuts you know, such things were quite exciting to me. So my siblings and I were always looking forward to going on holidays in the village.
Does this mean to say you grew up in the village?
I grew up in so many places - Cross River, Ebonyi and Kaduna states.
Whoa! You are a real Nigerian, aren't you?
Sure I am.
Meaning that you speak more than one Nigerian language?
yes! I speak Hausa fluently, Yoruba, my husband is Yoruba. I speak Igbo very well. I can even write a book in Igbo language. I also speak Efik.
Did you read Theatre Arts?
No, I didn't study Theatre Arts, but Business Administration at the Polytechnic Calabar.
Why did you opt for acting?
Because acting is business as well. While in school, I was practising on stage. I started from stage and then I grew up with it. Acting has always been something that I have loved doing and before I appeared on television, I had always looked forward to seeing myself on the TV. I had the opportunity in 1997, when I had my first appearance, on movie, not on the television. But I have always been on television before I started doing movies. My first movie was 'Black Powder' which was shot in 1997 and it came out in 1998.
As an actor, haven't you taken up roles where you may need to flaunt your body?
No, you don't flaunt what you don't have. I don't have that kind of body that I would flaunt. I'm a typical African woman.
But I can see part of your body and I think you look good?
Well it's not meant to be shown to the whole world. Maybe if I were 20 years younger, I would have been doing that, but at this age? No, no, no, let me leave that for the younger ones.
How do you see our dress sense in this country, women in particular?
Nigerian women are top on my list in the world. Because they know what to put together to come out glamorous. And I have to give them kudos. Especially God has blessed us with fabrics that are African and most times if I go to events, I like appearing like an African woman... It's not as if I don't wear casuals, jeans and T-shirts, oh they are my favourites. I love jeans and T-shirts for casuals but when I'm going for events, I love dressing traditionally. I mean African.
Cleavage flaunting tops have stolen the show now, are you part of the trend?
If you have it flaunt it! I don't have it, so I don't flaunt it. If your partner accepts it, go ahead. But if deep down in your mind you are not comfortable with it, please don't flaunt it. Don't try to please people and don't flaunt what is an eyesore. You know what I mean? In a nutshell, if you feel comfortable, flaunt it because to me if you ask what fashion means to me, I'll say it is whatever makes me look good and comfortable. I have to be comfortable with what I'm wearing.
So, if you have what you think you want to flaunt, please flaunt but you have to be careful, don't flaunt too much, because if you do, you are reducing yourself. You are attracting wrong kind of men to yourself. And instead of gaining respect, you are losing it.
Do you wear mini skirts?
I don't wear minis because I don't have good legs to flaunt.
Every woman has something good to flaunt, what part of you can you proudly flaunt apart from shoulders, your neck and your back that I have seen?
These parts of me are all that I can flaunt.
When you want to unwind what do you do?
I go swimming, I like giving myself a treat. I do give myself a bubble bath, it makes me happy. I dance a lot, oh I love dancing. You need to see me dance. I love dancing (laughs) and when I dance, I really dance. It's a kind of exercise to me.
What is your weakness?
I think my weakness is trusting people. I trust people too much and I'm trying to cut down on that because a lot of people have taken that for granted. In the past, people that I have trusted so much have disappointed me. Another thing I overdo is caring for people. I remember what my father told me. He said, you make people so happy, are you happy? I said this once in an interview that before my father died, he spoke to me, less than 12 hours, I didn't even know he was going to die. And he said you owe yourself some happiness. So, in life whatever you do, no matter how much you try to make people happy, try to make yourself happy as well. It's very important. So these days, I try as much as I can to do things that will make me happy.