Who Wants To Be A Millionaire Presenter, Frank Edoho's Marriage Break Up Latest!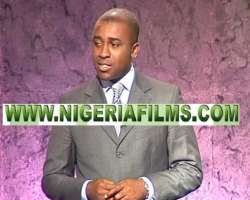 Wife moves out of home over inability to pay rent.
Sells off Lexus Jeep to make ends meet.
Contrary to his public posture, sources have reaffirmed that celebrated presenter of must watch television programme, Who Wants To Be A Millionaire, Mr Frank Edoho has indeed abandoned his family.
And not only this, fresh information has it that he has also stopped providing for his broadcaster wife, Kathrine and their three children.
He is said to have adopted this stance for close to a year now.
Information at our disposal revealed that Edoho had carefully masked the development from the public based on the after effect it might have on his job.
The promoters of his claim to fame, Who Wants To Be A Millionaire had warned him about any negativity about his person rubbing off their show.
He is widely seen as the face of the show all over town. It was their insistence that made him recalled his wife in the initial celebrated bust up that the couple later denied. There were talks of replacing him as presenter of the show before he bowed to the demand of the promoters of the show.

His present action of moving out of his matrimonial home and stopping all allowances due to the family for about a year is said to have started taking it's toll on the wife and their three children.
Kathrine is said to have sold off the Lexus jeep her husband bought for her over inability to maintain it and part of efforts to make ends meet towards the end of last year.
In other to keep up appearances, she was said to have opted for another Jeep- though of lesser grade- identified as a Pathfinder.

She is said to have survived all these while on support from close knit family and friends in the know and her earnings as an employee of the Nigerian Television Authority.
But these efforts are evidently barely able to sustain her and the children.
Recent development has it that Kathrine has moved out of the home abandoned by Edoho over inability to continue paying the house rent.
The house located inside Chevron estate is said to go for around 3-4 million Naira per annum.
Unconfirmed sources described her new location as on 'Abraham Adesanya'.
Further investigation revealed that as marriage break up generates increased public awareness by the concerned parties have started wading into the matter to patch things up before irreversible factors make the change in the marriage permanent.
Edoho, now living in a new apartment is said to be resisting the move- while maintaining public stand of just an everyday disagreement in the marriage.
The immediate reasons that resulted in the current state of the marital union are yet to be established.