SHEKARAU WILL RAISE THE LEADERSHIP BAR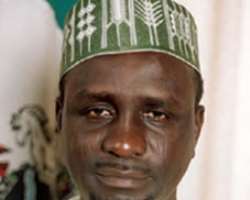 •Shekarau
It was one of Nigeria's most prolific and incisive scholars, Professor Chinua Achebe, Who identified poor leadership as the bane of the Nigerian society in his booklet, the trouble with Nigeria. This problem of poor and bad leadership in Nigeria has scarcely been abated.
On the contrary, this country has had the misfortune of being saddled with leaders who have no clear vision of either leadership or their mandate. Every so often, such leaders show clearly that they are visionless, rudderless and directionless.
It is against this backdrop that the nomination of the Governor of Kano State, Dr. Ibrahim Shekarau by the All Nigeria People Party (A.N.P.P) as her Presidential flag bearer must be received with joy, gladness and hope. This is because Dr. Shekarau is one of the emerging new breed of charismatic and clear-sighted leaders in Nigeria today. Shekarau has a special gift and ability to lead, to unite, to bind together and to get the best out of people by encouraging and empowering them.
Dr. Shekarau has shown his special qualities as a great leader by what he has done in Kano State. In almost eight years, Governor Shekarau has transformed Kano and translated the dreams of the founding fathers of the State into reality. He was able to galvanize efforts, materials and resources to propel development in all sectors of the economy in Kano. He has been able to unite all the contending forces and ethnic nationalities in the State. He has brought development to the door steps of the people. Shekarau's development efforts are visible and palpable and are not propaganda stunts targeted at scoring political points.
It has been stated clearly that only Shekarau of all the Presidential Candidates for the April elections, came to the political scene prepared, focused, organized and with a clear vision of what to do in Government. Other presidential candidates are either ill-prepared and still jittery or that circumstances thrust the Presidential ticket on their inexperienced shoulders. Some of the Presidential Candidates have no political experience. Some of them have not even governed a Local Government Area before. A lot of them have neither contested nor won elections before. Others were beneficiaries of fate who never prepared for and have no orientation for the sensitive job they are seeking.
Shekarau is different from this pack. He is tried tested confident and reliable. He comes with a great deal of experience and an unimpaired vision of how to fix the tractable problems in Nigeria. Sheharau is the only credible Presidential candidate in Nigeria today. A lot of Presidential campaigns have been shown on national television. Some of the Presidential candidates betray their inexperience and lack of vision and mission.
Nigerians now have the opportunity of restoring equity in the country's political firmament by voting massively for Shekarau who is the only credible Presidential candidate in the country today. All the other candidate are political pretenders and jibbers who have nothing to offer this country.
Shekarau comes with a sound and solid track-record. His achievement as the Governor of one of Nigerians most successful States are there for all to see. His humanity, humble disposition, nationalism, altruism and patriotism are qualities which are innate in him and which are lacking in the other Presidential candidates.
Whereas none of his opponent has won an election before, Shekarau has won elections severally, including defeating an incumbent Governor from a ruling party. This is no mean feat and it is a pointer to the confidence and trust reposed in him by the good people of Kano State who knows him well. Shekarau has great qualities that will make him to do for Nigeria what he did for Kano State.
Therefore, every geo-political zone in Nigeria should stand solidly behind Shekarau by voting for him in the Presidential elections for a better, safe, richer and greater Nigeria. Nigeria cannot afford the luxury of handing over their future and destiny into the hands of an unprepared and undecided leader. The times call for a charismatic, go-getting and talented leader who can hold his own in the country of African and world leaders.
Gone are the days of surrogate leaders. We want leaders whom we can relate with, trust and hold responsible for their actions and inactions.
•Prince Oliver Okpala,
A political Analyst