INEC RACKET: SENATOR IGBEKE DENIES FORGING COURT ORDER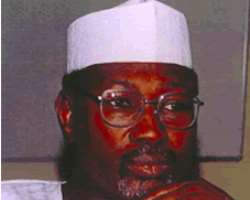 Embattled Senator Alphonsus Igbeke has denied that he forged a court order with which his name was inserted into the Peoples Democratic Party (PDP)'s National Assembly list of Anambra State by the Independent National Electoral Commission (INEC).
Though, he admitted that there was discrepancy in the dates recorded in the court order, however, he said it was a typographical error.
His reaction came just as it was gathered that the State Security Service (SSS) operatives had moved into the investigation of the substitution syndicate.
Daily Sun could not confirm from the SSS, which has an office within the INEC premises, but sources revealed that the SSS, had, as at yesterday, questioned a number of INEC staff over illegal substitution and production of fake results and court orders.
An unsuccessful enquiry from the SSS national headquarters indicated that INEC Chairman, Professor Attahiru Jega, was billed to appear at the SSS office this morning (Thursday).
However, SSS spokesperson, Merlyn Ogar, confirmed that Jega would be coming to the SSS office not because of any case being investigated but to address the operatives on the preparations for the elections and to share information with the service on how the election would be conducted peacefully, freely and fairly.
Igbeke said he was a victim of high wired politics in Anambra State as an unnamed influential politician in the state had boasted that over his dead body would he make the candidates list. 'He boasted and he has achieved his aim; my name has been removed but I beg to say that I never forged an order of the court. All the parties were present in court when the order was given. I could not have altered it; the conflicting date in the order is a typographical error.