JONATHAN BEGGED CIROMA -HADITH, PDP CHIEFTAIN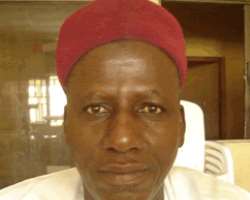 Hadith
Alhaji Bala Hadith is a chieftain of the Peoples Democratic Party (PDP) in Bauchi State. He believes that the North should support President Goodluck Jonathan for a term of four years. The acting national secretary of the new People's Democratic Movement (PDM) founded by the late General Shehu Yar Adua, said the group is mobilising support for success of the Goodluck/Sambo ticket in the April general elections. He added that after Jonathan's four-year tenure, the presidency should go back to the North. Excerpts:
The new PDM
We have been waiting for the leadership of PDM to call us and give us direction but nobody had the gut to call for a such meeting. But we have been receiving calls from states, we should meet to decide our direction. Last week we decided to meet in Abuja and almost all states were represented. We call ourselves new PDP group like minds.
We deliberated on the political development of the country. We discussed various issues such as INEC, performance of police and what they are going to do, the candidate we are going to support and other national issues. After hours of delibraion, we declared our total support to our president, Goodluck Jonathan and promised to continue to have meetings, go back to our various states to mobilise and speak to people of like minds to vote Jonathan for the reasons we have already discussed. The reasons are, we want national unity, we don't want political bigotry that will promote disharmony, political thuggery. We want political stability.
We have been enjoying the support of the people of the South South we from the North since 60s. This support that we have been enjoying is part of the reason that Tafawa Balewa formed his government during NPC. When we came to NPN, South South also supported the North almost 100 percent. When we came to SDP, South South also supported Shehu Yar'Adua, which extended to Chief MKO Abiola.
We came again and we discussed that this is a very important reason why the North should support Jonathan. By the way, Jonathan has declared that he will contest only for one term and by the year 2015, he will no more contest election. So this is a very good development politically and everybody knows PDM, even the old one and the new one, we have supporters from wards, LGs, states and federal level.
In effect, zoning still alive, and what about the Igbo from the South East?
Zoning is not based North East or North West. It is based on North and South. So once the South finishes it will come back to the North and we the North will decide whether it should go to North West, Central or North East.
What is your assessment of INEC?
We have given Jega pass mark. We are now appreciating his actions but we are praying his lieutenants would follow his footsteps to conduct free and fair elections.
Why didn't PDM throw its weight behind Buhari or any one of your own?
The new PDM is mainly PDP members, some are CPC, some ACN. We convinced ourselves that we want national unity because our leader, his motto is No North, No West No South, but Nigeria. That is why we are also saying Nigeria. Whether you are Yopruba, Igbo, Hausa, Urhobo, or Itsekiri, Christians or Muslims, we are all Nigerians. There are good people all over the country therefore we have decided to support Jonathan because he is very humble. He has started going to our leaders in the North not just because he is still the president, no but because he wants this country to move together united for peace, harmony, progress. That is why he went to kneel down in front of Ciroma, as his father, as his leader, as his host. What Jonathan did is credible, respecting the leaders of this country be it from the North, South and so on.
For states like Bauchi, what is PDM doing to deliver such states to Jonathan?
In politics, you can't force the people to vote for who they don't like. You can only appeal to them, you tell them his qualities, you tell them what will benefit them. We are not going to force anybody. You have the right to decide and we are not going to de-efrancise.
Governor Yuguda and the FCT minister, Bala Mohammed crisis.
I appeal to them to come together and discuss their differences themselves and find a common solution for the benefit of the common man. I also pray for peaceful coexistence because I am very close to the minister and the governor and I don't want to interfere. I want them to come together and unite. Everybody has his own grudges, problems which you cannot say what you are doing is wrong, no. I was with the former governor, Ahmed Mu'azu, and each one of them has the progress of the state at heart. We will all die and leave the state but we should die and leave it in peace and progress for our children.
Election violence
The PDM will write the Inspector General of Police to appeal to him to make sure that there is peaceful elections and police did not harass anybody. He must ensure that his men are doing their work. We are concerned about ballot snatching and it won't augur well for democracy if we don't check it. In some states, some candidates were denied their rights to go and campaign. This is sad. We hope this will be addressed.