DOCTORS DISTURBING COLLEAGUES DURING STRIKE SHOULD BE ARRESTED CHUKWU, HEALTH MINISTER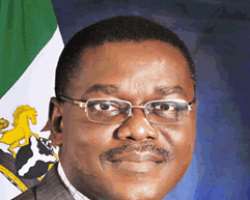 •Prof. Chukwu
The Minister of Health, Prof Christian Onyebuchi Chukwu has said that striking doctors who stormed hospitals to disturb their colleagues that are ready to work during strikes actions should be locked up or have their licenses withdrawn.
Chukwu stated this in Lagos on at the commissioning of the Avian Influenza Laboratory and Treatment Centre at the Lagos University Teaching Hospital (LUTH), Idiaraba also said the instability in the nation's health sector occasioned by strikes was becoming worrisome.
'It has become an everyday thing. It is like saying I won't have my breakfast. The only thing that can be news to me now is if the workers said they have decided to make the sector work by allowing peace to reign'. The Minister said he was no longer bothered by the incessant strikes by doctors and other health workers in the country.
According to him, the announcement of strikes by the workers is no longer news to him.
The minister condemned the attitude of some doctors who picket at the hospitals during strike, saying they should not disturb their colleagues who were ready to work even as he recommended severe sanction against such doctors.
'Any doctor found doing this should be locked up and have his licence withdrawn. If we complain that this country is not moving forward, I think we should all share part of the blame. The health sector needs human capacity to work. Even this project may not work if we do not change our attitude', he added
The Minister also disclosed that the Federal Government has concluded arrangements to establish the Nigerian version of the Centre for Disease Control and Prevention in line with its objectives of disease prevention and surveillance.
He said the commissioning marked the beginning of a new era that would herald the functionality of the treatment centre as well as the Avian Influenza Laboratory, which will further strengthen disease surveillance through laboratory services within the south western region of the country.