Nigerian London Female Pastor Jailed For Child Trafficking & Slavery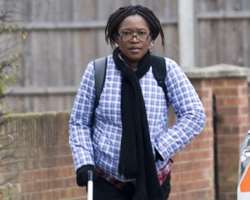 LUCY ADENIJI. PHOTOGRAPHED BY GLENN COPUS.
SAN FRANCISCO, March 20, (THEWILL) - A Nigerian Female pastor based in Barking, East London will spend 11 ½ years in jail after being found guilty of child trafficking and using them as domestic slaves in her Ray Gardens Barking home.
Lucy Adeniji, 44, was convicted on 17 criminal counts at the Crown Court in Isleworth. She is the first person to be jailed for child trafficking in London.
Lucy was charged and convicted of bringing three persons (two children and a 21-year old female) into London with fake papers from Nigeria with the promise of giving them a better life but instead turned them to domestic slaves and beat them mercilessly whenever they refuse to please her.
She subjected them to cruelty and forced them to do hard domestic chores including looking after her children.
THEWILL gathered that Prosecutors discovered that Lucy was also in London illegally and had claimed benefits for her children. They described the treatment of her victims as 'modern day slavery.'
Lucy is also likely to face charges of financial and immigration fraud.