ODEMWINGIE'S BIRTHDAY GIFT FOR WESTBROM'S KITMAN, MATTHEWS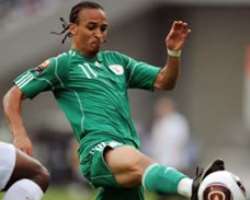 Odemwingie
Super Eagles' striker, Osaze Peter Odemwingie, has dedicated his goal in West Brom's 2-2 draw against English Premier League title contender, Arsenal,to the club's kitman, Dave Matthews, who has been working with the Albion since 1961.
Matthews joined West Bromwich Albion as an assistant kitman 50 years ago, the balls still had to be sewn back together after training, players wore T-shirts and shorts in snow and if they were sissy enough to want to protect their precious shins they put sticks of cane down their socks.
Most jobs in football, come with a life expectancy that would worry a mayfly, so no wonder after managing 50 years at West Brom their kitman was this week presented with a spectacular cake made by the club doctor's wife, and a Barclays Merit Award in recognition of his dedication and professionalism in preparing players for matches.
'To complete 50 years of service at a football club is really quite remarkable,' said Roy Hodgson, the West Brom's manager. 'It is almost mandatory for there to be change these days, but it is important for a club to have an identity and Dave gives West Brom that. It is good for the players to know that this club existed before them, and it will exist after them.'
In a time of such rapid turnover, to have a thread running through the club is invaluable. Matthews has seen 24 permanent managers come and go, the FA Cup and League Cup won, two League Cup finals lost, six promotions, and six relegations. Naturally, he is hoping not to see a seventh. These days, the kitman no longer needs to file down studs or sew up balls, but Matthews still needs six metal containers and five kit bags to carry laces, pens, bibs, cones, chewing gum and all other paraphernalia that the players might need. 'It has grown and grown out of all proportions,' he says. 'When I started, it was T-shirt, shorts, ankle socks. Definitely no snoods.'
Even then change was slowly taking place. It was only two years after Matthews joined that the players went on strike over a pair of tracksuit bottoms.'Jimmy Hagan liked running,' Matthews recalls. 'You warmed up running, training was running, and he was always in T-shirt and shorts, even in two foot of snow. 'He wouldn't let the players wear tracksuits and they rebelled. The manager finally agreed that they could warm up in tracksuit bottoms, then they had to take them off.' The memories flood back. Matthews wrote to the club as a 15 year-old in the hope of getting a job as a groundsman. The only vacancy was as an assistant to the kitman, and Matthews jumped at it.
'For a fan to be working alongside his heroes,' he says, 'well, it doesn't get much better.' Of course, as a supporter of the club, it can be difficult to keep quiet when players do not perform. Matthews had an argument with Geoff Horsfield in 2004 after Birmingham had beaten West Brom 4-0.
'There were a few verbals,' he admits. But he can also be a conduit for supporters.
When Odemwingie was worrying about how the terraces would react to a goal drought this season, Matthews was on hand with some reassuring words. 'I said 'Peter, as long as you try, keep working hard, you won't get any stick off the fans'.'