Mum warned me not to kiss anybody on screen –Oluchi Philips, actress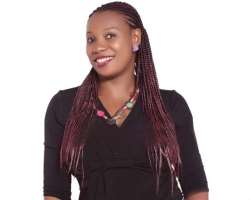 Left to her mum, Oluchi Philips, a Nollywood actress, would have ended up in a fanciful vocation, where it would be easy for her to get married and live happily after but she had her way. Today, her mum is her greatest admirer and critic. Philips tells ADA ONYEMA about her life and the experience so far
Childhood dream
Acting has been part of me right from when I was a kid. Right from my primary and secondary school days, I have been involved in drama groups. As I was filling my Joint Admissions and Matriculation Board form, my mum was saying, 'You can't study theatre arts' because parents then thought that those who read such courses were good for nothing. She rather wanted me to be a lawyer, doctor and the rest. But I really wanted to be an actress because it is my passion and favourite course. I'm not into it because I want to make money, but because of the love I have for it.
Passion
Definitely, anything you do in life you are not making money out of is not business. After the monetary aspect of it comes the passion. I love to make money and at the same time, I have a passion for the work. Well, whatever you do well in life must have fame attached to it. I want to be famous and known all over the world, not just in Africa. It is not just for the passion and money, the fame is there too.
Opposition
So many people kicked against it, especially my friends. They were saying something like, 'Are you sure you want to get married at all or live in someone's house for the rest of your life?' There is the misconception that actresses don't get married and when they do, they divorce before you know it, not just in Nigeria but also all over the world. My mum made her position clear right from the outset by warning me not to kiss anybody on screen. But I refused to be discouraged.
I had to talk to my mum several times to make her understand my position. She accepted, but with some conditions. She reminded me that she is an Ezinne (a member of the Mothers Union) in the Catholic Church and didn't want any scandal. It is quite natural for them to raise eyebrows, but it is up to you to make them understand the way acting goes. Today, she is my best admirer and critic and she is very proud of me.
Sexual harassment
In this industry, I've not been sexually harassed, but while in school, I was (harassed) several times. While in school, a particular lecturer made me to fail one course several times. At the end of the day, a change came and that was how I sat for those courses and made my papers. In Nollywood, I hear people say that and I keep asking how that is possible. Most of us push ourselves to the directors, producers to get lead roles. Most of us don't believe in what we have inside of us. They think that the only way to do it is by getting closer to the producers and directors and by the time you do that, you are only paving the way for them to make advances at you. Apart from that, it is normal for a man to make advances to a lady, after all, we all passed through the walls of school. I don't think it is a do-or-die affair. If you don't want to sleep with him, he will never force you and if you don't get the particular script, there are other scripts on the way. Some actresses go ahead to sleep with them, but they come out to tell us they are sexually harassed; it is not true because they were not forced or raped. Why would they come out and say they were sexually harassed? If you are good you are good.
Beginning
I started acting in 1998, and my first movie was the Lost Kingdom, which was directed by Ndubuisi Okoh. I vividly remember I was paid N5,000 and I was very happy because it was big money to me. Before then, I used to either collect money from men or I got a tip. The feeling was different; it was my first time of making money on my own. My friends came back one day and said they went to shoot the Battle of Muzanga, and I felt bad for not going with them. Next time, I went with them and met all the big stars we see on TV and it was fun.
Role model
Genevieve (Nnaji); the first time I met her in Enugu, she played a lead role, but was always keeping to herself and I have watched some of her movies. Any role you give her, she steps into the character and does it well. I keep praying to always be able to go into the character of any role that comes my way.
Traits/habits
Being a tomboy is a habit I learnt while growing up. I will say that I'm a tomboy and no. Yes, because I grew up in the midst of guys. I love the way my brothers behave and I took after them and their ways. I started making up after my graduation. As I got into the industry, I was made to understand that I'm a lady not a boy; that I've to act and dress like a lady. It has nothing to do with the roles I play. There is a lot of difference between being a tomboy and being a lady; for instance, the way I speak, act, those boyish moves. I thought it was normal and I followed them. But now, I've come to realise that those moves are meant for boys; a lady has to be calm in her way. It is as if I'm learning to live all over again.
Experience
My experience in the industry has been good. The industry gives you an avenue to meet different people from different backgrounds.
Another love
I'm an international business woman; I buy and sell.
Growing up
I'm the first girl from a family of five. My growing up was great. I grew up in the midst of guys, lots of male cousins. I come from a large family and everybody came home every Christmas. It was an interesting time. My mum was a teacher and while in school, we were expected to show good examples.
Educational background
I have a BA (Hons) in English as first degree and a diploma in Theatre Arts from University of Uyo.
Love life
Nothing is really going on. I don't have a boyfriend; no I have. I don't know why you people can't cut this relationship thing out. He is kind, warm; I don't know how to describe him. He is just wonderful. Everything I will ever ask for in a man is complete in him. I didn't want to discuss him. We hope to walk down the aisle soon. He understands my profession and knows that it is a make-belief. He is human though so it hurts at times.
Depth of love
If my man asks me to quit my career for him, I will not consent to that but I believe in dialogue and I will make him understand. I won't want to quit but will also respect my husband. I can quit my career, but will not be happy quitting my passion for my husband.
Stardom
Being an actress is not easy; we're always afraid to do certain things. We're not comfortable when we go out, but always on edge because you will not like to be caught unawares thereby living a fake or false life.