No man bought my car for me – Empress Njamah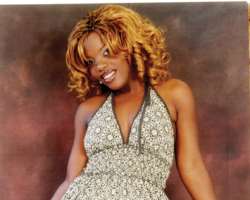 It seems Empress Njamah has finally moved on after her broken relationship with Dem Mama crooner, Timaya. She surprised many people last week when she parted with some cool millions of naira and drove home a Range Rover Sport.
Many people thought that a rich man in her life bought the car for her, but in a chat with Life and Beat on the phone earlier in the week, Njamah swore that no man added a dime to the money she used in buying the SUV.
"Any man that claims he bought the car for me should come out with the proof. I swear, no man's kobo is in this car. This is my sweat. I'm not only an actress. My career has opened other doors for me. I'm into business and contracts as well. As such, I should afford the car," she says.
Though some people might feel her new toy might chase would-be suitors away, Njamah feels otherwise.
"Any man that feels intimidated because of my car doesn't have any liver. So, that means if I get into his life, he will not buy something like that for me, I will get less. I'm not cut out for that. I have paid my dues and I can beat my chest and say that. I'm not ready to deal with a man who has inferiority complex."
Njamah believes that every celebrity should live up to his or her status as a celebrity. "No actor or actress should drive a car that is less than N4m," she says.