I've Never Dated Dimeji Bankole Or Saheed Balogun - Funke Adesiyan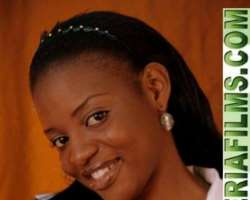 Funke Adesiyan recently joined the Yoruba movie industry and became an instant hit. The Drama Arts graduate of the Olabisi Onabanjo University revealed to Tunde Ayanda what she is up to at the moment.
What are you up to at the moment?
Right now, I'm working on a show which I think would really revolutionalise the industry and that is what has been taking my time and I know it will surely surprise a lot of people when it comes out.
Your last effort, 'Ayokulehin,' was something you made so much noise about, what was the success like?
It was a huge success, people saw the movie, which was quite emotional and I heard good comments that made me feel good. Many people felt it was real.
Gbenga Adeyinka saw me some days back and he spoke to me about the movie as if it was the first movie he has seen in recent time. It touched me for him to have said that, it means that the movie has made an impact on him, it's a great experience and I know my time is yet to come.
If it did well, how much would you say it fetched you?
Ayokulehin was a N4 million project and of course, the premiere cost me over N4m because I premiered it on my birthday. It was a double celebration for me. I won't want to put a figure to it but I can tell you that it made me my capital and profit and I'm satisfied with it.
How has the male folks been treating you?
I believe in the saying that whatever you go through or happens to you in life is supposed to build you for what you have ahead of you. I'm reading a book, 50th Law of 50 Cents. It says he was born in a ghetto with no parents and everything that happened when he was growing up became a training for him.
You don't know what would happen the next minute, so all you have to do is live your life for this minute. I won't say it has treated me right or wrong, but since love, romance is part of life, I would just say life has been good to me.
What do you think attracts men to you?
I think that is for the guys to tell you what they see in me that attracts them, you are a man and not long ago, you said I'm beautiful, what did you see?
A Yoruba adage says, you don't see yourself, when I look at the mirror, I see what people tell me they see. Some say I have big eyeballs and when I look at the mirror, that is what I see and who knows, I might not have big eyeballs.
So, I take it that you cherish your eyeballs and that attract men to you?
You said that, I only picked the eyes as an example. Well, I don't know, but I would tell you that I like everything about myself including my eyes. It's cool and it's part of me and I like it.
What was it like with Saheed Balogun?
This interview is about me and not Saheed Balogun, let's talk about me and leave Saheed out of this. It's in the past; I don't want to talk about it because that was in the past. I don't want to talk about it and I would prefer to talk about myself and things I have to do and not the past.
So, you never dated Saheed Balogun or Dimeji Bankole?
No, I didn't date Dimeji Bankole. I only met him once at the airport and that was all. Saheed and I are friends and he is a senior colleague, that is the way I would put it. Remember, not all relationships are romantic.
How much does it cost to star you in a movie?
It's not about how much I want to get, it's basically all about the task I'm asked to do. Like making me act a Calabar woman's role, it's going to take some cash and I won't rip you off or something like that. Basically, I settle with my conscience and get my fee.
In terms of naira and kobo, how much are we looking at?
Enough to make me comfortable. One thing you must get is that I don't want to be on the face of every movie jacket, I don't want to be that. I want to be remembered for something in every movie and when I'm gone, I still want to be remembered for something worthwhile.
I don't want to be the rave, I want to be the constant talent. Look at Joke Silva and Genevieve Nnaji, who I really admire, most times, she acts like she just came into the industry yesterday and she's a bunch of talent anyday, anytime.
So, would you act a role for N500,000?
Well, I could and if you don't give me a dime and I love your script, I could also act a role. I could even finance you, if I'm convinced and I see the things you have to do to make the script come out excellently.