EX-EDITOR DYING OF KIDNEY FAILURE, NEEDS N5 MILLION TO LIVE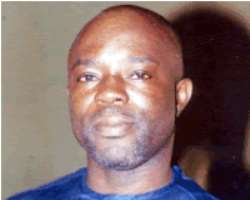 Nwuka
Journalists write and report events that affect other people. But not many people get to hear or read about the concerns of journalists. And that is the case of Mr. Emeka Nwuka, former editor of a national newspaper in the country.
For many months now, Nwuka has been struck by illness. Owing to kidney failure, this once bubbling and effervescent young man is now infirm, has lost much weight and almost bedridden.
Checks revealed that Nwuka, former Saturday editor of defunct The Post Express Newspapers, is almost at the terminal point of kidney failure. The illness has stopped him from plying his trade in journalism and he can't do any business to keep body and soul together.
Family members said that since doctors diagnosed the symptom 11 years ago, Nwuka has been in and out hospital until two years ago when his health worsened. At the Federal Medical Centre (FMC), Owerri, where Nwuka was admitted, he was a shadow of his former self. He was undergoing dialysis twice a week, while on admission. Owing to accumulated bill, he was prematurely discharged and now comes from home for dialysis.
As permanent cure to the ailment, doctors at the hospital have recommended a transplant operation in India or Nigeria The snag is that Nwuka cannot afford N5 million required for this treatment.
Narrating the family's ordeal to Saturday Sun, Nwuka's wife, Mirian, a mother of two, said that she didn't notice any swollen in her husband's body system until recently.
She said: 'We thought we could manage it with the recommended medication, but at a point it became severe and we had to go to the Federal Medical Centre, Owerri. We have been using FMC, Owerri for the past 10 years. He was admitted in the hospital in January. He was discharged at the end of January, because the hospital's dialysis machine broken down and we had to go to Aba, Abia State to continue the dialysis. When FMC machine was repaired, we came back to continue the treatments.
'The cost of each dialysis is about N30, 000, but by the time you buy blood for transfusion and other injection, we will be talking about N45, 000. We have done nine dialysis and dialysis is done twice a week.'
She confirmed that doctors recommended kidney transplant in India or St Nicholas Hospital, Lagos.
'We would have gone for transplant long ago if we had the money. Now we are making due with dialysis, which is taking all the resources we don't even have. We have run out of cash to carryout further dialysis and my brother-in-law has been running from pillar to post in search assistance, which is not forthcoming,' she said.
Nwuka's wife revealed that the family needs about N5 million for the surgery, minus cost of travel and post-surgery treatment. She, therefore, appealed to Nigerians to come to the family's aid and save her husband's life.
'I am appealing to spirited Nigerians to assist my husband, so that he will not die of this kidney problem. We need financial support; no amount is too small. In the last couple of years, we have been in and out of the hospital. It got worse in the last two years. My husband can't do anything to earn a living because of the ailment. I am unemployed and therefore, cannot carry the burden.
'As a result of his health problem and the fact that I am always in the hospital with him, our two children are now staying with our relatives. Our daughter is with my elder sister in Lagos, while the boy is with my mother, in the village.'
Those who want to help Nwuka should call: 08036690478 or 08033303200. You can also make payment into Intercontinental Bank Plc (Owerri) account no: 0340001000001555, in the name C. O. K. Ventures.