MEN ARE DYING FOR ME - ABISOLA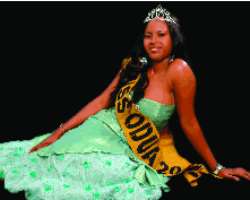 Adebayo Abisola
Miss Adebayo Abisola is a second year Science Laboratory Technology student of University of Ado Ekiti. She is currently the queen of Oodua 2011 held recently at Hilton Hotel, lle-Ife, Osun State.
She has vowed to educate the youths at the grassroots level. Her strategy will be to create awareness among the youths on the importance of taking good care of their health by organising seminars, as most of them are challenged with health problems.
Also, in this interview, she emphasises that being a virgin is not just a criterion to win the pageant, but one must be intelligent and have the charisma too.
How long have you been nursing the ambition to become a beauty queen?
It's been since 2009. I wanted to do something for my people, and the only way is this.
Is Oodua beauty pageant all about being a virgin?
It is not, but you have to be intelligent, beautiful and have charisma.
What inspired you to go into the pageant?
I have been nursing this ambition for a while now, to help people, mostly the young ones roaming about the street, aimless. And I thought that I did't have the platform to do it and wondered how to achieve it. So, I decided to watch this beauty pageant shows. So, I said to myself that some of these people are doing something in their own little way and I can as well do something. And I thought that the best way to do it is involving myself in a pageant and setting up a foundation in form of cultural organisation, where we would address the youth about early diseases. I also thought it would help to address culture-based issues, poverty alleviation and empowerment.
How was your childhood like?
I had a very wonderful family. I grew up in the midst of my family and I thank God I have the kind of family I desired.
Has any man told you that you are beautiful?
It is not all about a man telling me, my parents have been telling me that.
Has any man told you he loves you?
Excuse me, sure.
How was it like?
It is a normal thing for ladies.
How old are you?
I am 21years old.
At 21, can you call yourself a full grown woman?
Not really. I am still young and I still need a lot of learning
What is the funniest thing that has ever happened to you in life?
The first time I went for Miss Ado-Ekiti. It was late and we couldn't go home. Some bad guys attacked us and collected my money and everything I had. I felt bad and I felt how I was going to cope. And I asked myself, is this what beauty pageant is all about? I got discouraged as a result of that, but later took courage and decided to contest again. I believee that God is actually taking me to a place, and here I am today, being the queen.
How will you cope with your studies and your responsibilities as a beauty queen?
I will try my best to make sure that both of them do not suffer. I would also ensure that both do not affect each other. I will have a schedule of events because education is still the best. I will do my best to keep both going.
Is this your first time of going into a beauty contest?
No. I have contested for Miss Ekiti where I emerged the first runner-up.
Do you know Otunba Gani Adams?
No, but I've heard a lot about him.
Where you scared when you were contesting?
Yes. You know, it is not just a state thing, but for the whole of South West. So, initially, I did not know the type of people I was going to meet. I was scared but my friends encouraged me to go ahead.
What was going on in your mind when the first runner-up and other winners were called and your name was not mentioned?
Nothing. I just felt the will of God would happen, though the crowd had been calling my name.
What came along with the crown?
A brand new Nissan car.
Any cash?
No, but a trip to South Africa
How are you coping with your new status?
I thank God. I am trying to cope. I now have more friends and more enemies. People will want to befriend you and some would just want to meet you. I believe that I don't have to misbehave. I have to be my normal self. People will be watching me waiting for me to make any mistake.
The attention you were getting from men might have doubled?
Sure. Everybody wants to associate with a queen. Some would claim that I am their girlfriend anywhere I go, whether I am or not. But then, I have to be very careful with men. Some would say I am too proud. Even if it is just talking and never meant any harm, people definitely will complain.
Who is your role model?
Agbani Darego
Why?
It is because at the age of 18, she was already Miss World. If a girl at her age could achieve that, then I can do it too, even better.
Do you have a project?
Yes. My foundation is Awake A Future. It is all about the youths because I strongly believe that the youths are the leaders of tomorrow. They are the future hope of the world. There are some diseases and sicknesses in our body that the youths do not know. I will organize a seminar/workshop, bringing in medical expert. Though the Federal Government and the Ministry of Health are doing their best today, they are not working from the grassroots level. My plan is to start from the grassroots level to talk to them on how to take care of their body system.
Where will you see yourself in the next five years?
I believe that I would have done something to impact on lives by then. I want people to appreciate me and talk about my project. I would also wish that by then people would be coming to me for help. I want to focus on the youths. I don't like seeing children on the streets hawking around instead of being in school.
Have you ever had any family problem that made you want to help the underprivileged?
No, but while in secondary school, I met some of my friends in Ado-Ekiti Secondary School who often talked about their families. So, I was moved and then I decided to work on that when I grew up. I said I was going to help the underprivileged children on the streets. Even my parents told me about themselves when they were young.
Miss Oodua is a brand, some people have brought it far, even Miss World. So, what are your plans for Miss Oodua?
I want people to see Miss Oodua in the nearest future as a very big pageant, and as Miss World Pageant.
How do you intend to carry out your project?
When I begin to go to schools, I believe people will be motivated and want to be like me.
What does Miss Oodua stand for?
It stands as an ambassador in Yoruba culture.
People say beauty pageant is all about prostitution. Can you react to it?
Yes, initially when I made my plans known, the first bomb was that I too wanted to join the prostituting club. I became discouraged. I was told that once you win, you will be sleeping with men. But I don't believe that. I told them that it depends on how you present yourself. But there is nothing like that in this Miss Oodua stuff.
Advice to youths
One has to behave oneself. Don't subscribe until you have a boyfriend. The youths should believe in themselves. Be focused and be a good person. Let your education be your priority. Once you are educated, you have a good foundation, then other things come. You can go anywhere and you will be able to defend yourself as a graduate.
What was your first impression at the camp?
I went with my friends. When we got there, I met some girls and I wondered how I was going to cope. But they encouraged me. Again, I looked at the girls and thought they were not accommodating, but fortunately, they are very nice girls.
Did you visit places of interest?
Yes, the Ooni's palace and other places.
As the only girl, where you pampered?
No, but treated as a baby.
How did your family react when they heard you won?
They were happy, and since then, my brothers don't call me by my name, but Miss Oodua. I have a very lovely family, so I thank God.
How do you intend to represent the Yoruba as an ambassador?
As an Omo Oluwabi, I will try my best to represent that name very well.
Did your mother support you?
Yes, she advised me to be careful. She prayed for me to achieve my heart desire.
When people call you Gani Adam's wife when you travel with him as your duty demands, how do you react?
People around know that he's already married, so I see myself as his daughter, not his wife. Therefore, I will be myself.
How are you going to inculcate culture into the lives of both old and young?
I am going to organize a seminar, preaching on nature, what it really means and the advantages of culture to them.