Police Declare Oshiomhole's Chief Thug, Osakpanwan Wanted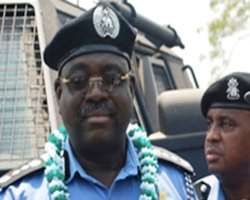 POLICE INSPECTOR GENERAL, ALHAJI AFIZ RINGIM.
SAN FRANCISCO, March 17, (THEWILL) - The Police Command in Edo State today declared the suspended Chairman of Edo State Committee on Pipeline Vandalism, Youth Leader of the Action Congress of Nigeria (ACN), and notorious thug of Edo State Governor Adams Oshiomhole wanted over his alleged involvement in the murder of two men in Benin City, Edo State.
Osakpanwan Eriyo was alleged to have led an armed gang to the Lagos Street residence of the Arala of Benin Kingdom, Chief Omalayan Osula on Tuesday, where the violence and killings occurred.
The two young victims of the homicide were listed as Raphael Oke and Osayumi Osazee.
Assistant Public Relations Officer of the Edo Police Force, Mr. Ejiroro Ahwara told reporters that Osakpanwam is a person of interest in the killings.
"We are declaring him wanted over his alleged involvement in the case of murder that led to the death of two young men on Tuesday," he said.
Osakpanwam, who until recently was engaged as contractor to collect revenue on behalf of Oredo Local Government Area has however denied having a hand in the murders.
He told journalists in Benin that he was nowhere near the scene of the incident.
Recall that trouble started for Osakpanwam over the weekend following his alleged assault on the son of Oba of Benin and Caretaker Committee Chairman of Oredo Local Government Council, Prince Ekpen Erediauwa.
Ekpen is the 3rd in line to the throne.
The Oba's Palace has since reigned curses on Osakpanwam while it also declared him an enemy.