@ ARISE MAGAZINE FASHION WEEK 2011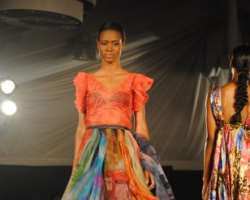 The much talked about, biggest fashion event in Nigeria – ARISE Magazine fashion week has come and gone but the memorable events it brought along with will be something to talk about for a long while.
The highly expected event scheduled to start Thursday, March 10, 2011 began on a rather poor note. Although the event was billed to start at 9am with press accreditations, it was delayed until 6pm. The patient Nigerian journalists were eventually given entry passes to the event. It was really an African event closely sticking to 'African time'!
There was actually no show on the first day, which was contrary to the schedule of events. The organisers were quick to apologize for the delay, explaining that all hands were on deck to put every necessary thing in place for the prestigious event.
50 of the top designers selected from around Africa including Chichia, NKWO, Jewel by Lisa, Deola Sagoe, Christie Brown, Samantha Cole, Ituen Bassey, Tiffany Amber, Mimi Plange, Bestow Elan and a host of others, used the first day to settle down and put in last minute details for the show as well as the models.
The show finally began on Friday, March 11, 2011 with a beautiful display of creative collections from House of Nwocha. Nwocha's use of African fabrics with a fusion of satin, mercury and silk was a lovely sight to behold as the models strutted the runway elegantly in the collection. It was indeed a lovely way to open the show!
In this glamorous fashion week, it was thrilling to see how each of these designers played with our African fabrics such as ankara, lace, aso oke, kente and adire fused with either satin, chiffon, corduroy or silk. It was amazing to see so many innovations, creative designs on the runway with very daring, fierce and electrifying models that really made the event worth waiting for!
After three days of seeing 52 creative displays from various designers, the chain of events was brought to an end by a befitting closing ceremony.
The night, which was hosted by R&B sensation Darey Art Alade and CNN, BET and NBC TV presenter Lola Ogunnaike, started with a runway presentation by top South African fashion label Black Coffee and was followed by a sterling performance from the young singer Mo'Cheddah who wore a stunning Re Bahia dress.
The 2011 ARISE Magazine Fashion Awards were presented by former Miss Nigeria Helen Prest Ajayi, business mogul Alhaji Aliko Dangote and a visibly pregnant super model Oluchi Onweagba Orlandi.
Finally, a spectacular performance by British-Nigerian music star, Tinie Tempah ended the show.
Apart from the fashion awards, five designers were chosen out of the 50 participating designers to represent Africa at the New York Fashion Week: Spring/Summer 2012 Collection Show in September 2011.
2011 ARISE Magazine Fashion Week Awards – Winners
Lifetime Achievement in Fashion: Deola Sagoe | Klûk CGDT
Designer of the Year: Klûk CGDT
Best in Creative Design/Creative Designer of the Year: Ituen Bassey
Emerging Designer of the Year: Maki Oh
Fashion Brand of the Year: Tiffany Amber
Young Designer of the Year: Buki Akib
Model of the Year: Flaviana Matata
New Face of the Year (Model): Chika Emmanuel
Menswear Designer of the Year: Angelo Van Mol
Style Icon: Nike Oshinowo-Soleye
Innovative Designer of the Year:
Five Designers heading to New York Fashion Week: Spring/Summer 2012 Collection Shows in September 2011 are Jewel by Lisa, Bunmi Koko, Klûk CGDT, Tsemaye Binite and Pierre-Antoine Vettorello
The runway was uniquely funky and chic. Here are some of the runway pictures of the glamorous fashion show that rock the city of Lagos for three days. Yes, it was a beautiful show lived up to its billing with a fabulous ending!
Click the link below to go to ...
MORE PICTURES OF ARISE MAGAZINE FASHION WEEK 2011