YOU'LL GO TO JAIL IF…. OLURIN WARNS DANIEL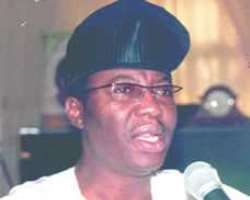 The Ogun State governorship candidate of the Peoples Democratic Party (PDP), General Adetunji Olurin (retd), has warned Governor Gbenga Daniel to refrain from spending public funds recklessly or risk going to jail.
Olurin who spoke during the flag-off of his campaign at Ilaro in Yewaland, yesterday stated that any moves by Daniel to fund the Peoples Party of Nigeria (PPN) with state money, would lead him to jail.
The governorship hopeful was apparently referring to allegation that Daniel had directed all the 20 local government caretaker chairmen to raise N25million each within 72 hours.
'Anybody who did what will make him to be in prison will end up in prison. Anybody who uses public funds unjustly will go to jail.
'Those who fund political parties with government money will go to jail. It is not my own law; it is the constitution that says so. I don't like catching thieves. I prevent thieves from stealing. I don't want to dissipate my energy catching thieves when I can prevent them from stealing,' Olurin warned.
But in a swift reaction, the PPN in a statement signed by its Publicity Secretary, Alhaji Raheem Ajayi, said there was no iota of truth in Olurin's allegation. Ajayi said the PDP was being haunted by the mandate stolen from its party's candidate. Olurin who promised to ensure accountability and prudent management said he had the responsibility of moving the state forward by bringing desired change and development where needed.
Speaking at the rally, former President Olusegun Obasanjo, advised the party supporters to eschew violence in the coming elections. He, however, told them to retaliate if they were attacked by anybody or group. 'Don't fight anybody as we are law-abiding citizens, but if anybody pushes you to the wall, you have to find a way out by defending yourselves,' he said.
He also described the act of spending public money recklessly by public office holders at all levels of governments for electoral purposes as criminal. 'It is an act that should be discouraged. Public fund is meant for development of the people and not as campaign fund.'
The former President described Olurin as a hardworking and honest man, saying, 'I know his reputation in Ogun I know his reputation in Oyo State. When we wanted to stop the rascality in Ekiti State, we looked for people to use and three ex-soldiers and three ex-civilian administrators were brought but Olurin came out as the best among them.'