CHOOSE OR LOSE CAMPAIGN KICKS OFF WITH FALLY IPUPA, J. MARTINS AND 2FACE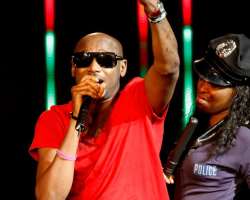 FALLY IPUPA, 2FACE & J. MARTINS TO HEADLINE MTV LIVE EVENT IN LAGOS TO HELP RAISE AWARENESS FOR THE CHOOSE OR LOSE CAMPAIGN
Fally Ipupa, 2FACE and J. Martins will headline the first edition of MTV Live – MTV's new live music night that will be taking over Africa in 2011.
On Friday April 1, 2011 at Tribeca in Lagos, MTV Live will see Congolese superstar Fally Ipupa give his first full live set performance in Nigeria, showing more of the star quality that wowed music fans at MAMA 2010, Lagos, in December. Fally Ipupa will perform a stunning live set with his full band and back-up dancers, including his signature, hip-shaking sensational song 'Sexy Dance'.
Nigerian favourite 2Face, who won Best Male and Artist of the Year at MAMA 2010, will be on hand at MTV Live, showcasing the trademark blend of reggae, R&B and traditional African musical influences that has made him Nigeria's favourite contemporary musician.
MTV Live will also witness an on-stage reunion between J. Martins and Fally Ipupa as they reprise their 2010 collaboration on the remix of Martins' hit Jupa Remix.
The first edition of MTV Live will be themed around 'Choose or Lose', MTV's voter mobilization campaign, and is designed to inspire and empower young Nigerians to exercise their right to vote ahead of the upcoming April elections. The event will also include an opportunity to see a screening of Rep 4 Naija, the cool music video collaboration between Nigerian musicians eLDee, Sound Sultan, Black Twang, Naeto C, D'banj and M.I..
Fally Ipupa led the winners at the third edition of the MTV Africa Music Awards with Airtel (MAMA), taking home two trophies at the music awards ceremony at the Eko Expo Hall, Lagos on 11 December 2010. Nominated in four separate categories, Ipupa scored wins for Best Video ("Sexy Dance") and Best Francophone act. Having first made his name with Koffi Olomide's Quartier Latin, Ipupa subsequently scaled the heights of solo success with the release of his two solo albums "Droit Chemin" (2006) and "Arsenal de Belles Melodies" (2009).
Over on the wheels of steel to keep the MTV Live beats going until dawn will be Naija's finest DJs including DJ Humility, resident DJ at Lagos based Rhythm FM, Beat FM's DJ Caise and Cool FM's DJ Jimmy Jatt