CORPORATE BOND MARKET TO HIT N192BN IN 2011, EXPERT PREDICTS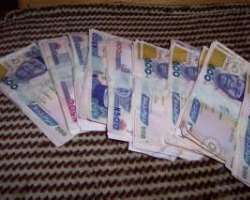 By Michael Eboh
A financial analyst, Mr. Tola Odukoya, has predicted a significant growth in the corporate bond market in Nigeria to N192 billion ($1.28 billion) by the end of the year 2011, rising from N87.17 billion ($581million) in 2010.
Odukoya, Vice President, Investment Research, Dunn Loren Merrifield, in a report titled, 'Nigeria: Primary Market Corporate Bond Issues,' noted that the growth will be driven by a renewed interest in the sector, due to the successes recorded in the Federal and State Government bonds, and government's desire to strengthen the corporate bond market through the granting of tax waivers, revision of guidelines on pension funds to accommodate corporate bonds among other measures.
He further predicted an appreciation in corporate bond issues to N105 billion ($700 million) in 2011, representing a  41.9 percent year-on-year (YoY) increase over 2010 volumes and a 182 percent Compound Annual Growth Rate (CAGR) from 2009 to 2011.
'We are of the opinion that the growth trajectory of the corporate bond market in Nigeria is highly positive. Our opinion is informed _ amongst other factors _ by the success of the federal government (FGN) bond market which commenced in 2003 with a N30 billion ($200mn) 3_year issue. Today, the market capitalisation of the FGN bond market is N3.06 trillion ($20.4bn) while tenors have stretched to 20 years.
'Similarly, state government (sub-sovereign) bonds have equally experienced a renaissance over the last 5 years given that only one State government was able to issue a N3 billion ($20mn) three-year bond in 2006 compared to a total size of N100 billion ($666mn) issued by four States in 2010 while the capitalisation of state bond market is currently N248 billion ($1.7bn).
'Overall, the foregoing has bolstered investors' confidence in Nigerian bonds, creating a pathway for the success of a corporate fixed income market. This is further strengthened by the government's efforts in ensuring the success of a corporate bond market in Nigeria as indicated by the tax waivers and revision of pension regulations to accommodate corporate bonds,' he said.
Odukoya further stated that the primary market for corporate bonds in Nigeria has enjoyed strong growth over the last 15 months, driven by increased awareness among firms to match long term financing requirement with long term funds.
He remarked that within this period, from December 2009 to March 2011, there have been an issuance of N108.5 billion (US$723 million) in the primary market for corporate bonds. 'Historically, Nigerian corporates have relied on expensive bank loans to meet short and long term financing requirements.
This has made financing expansion and growth a difficult undertaking in the country as interest rates on such loans could be as high as 25 per cent per annum while interest payments to EBITDA ratio spans a range of 25-90 percent.
'Consequently, most Nigerian corporates have had to adopt a strategy of continual restructuring of their respective bank loans given the onerous covenants that typically characterise such facilities. The situation was exacerbated by the meltdown that occurred in the equity market in 2008, from which investors are yet to recover,' asserted.