ONIGBINDE RAISES ALARM ON SIASIA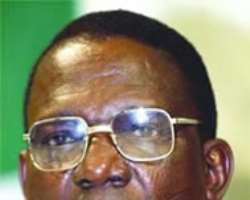 •Onigbinde
As the chief coach of the Super Eagles prepares for the 2012 Nations Cup qualifier against Ethiopia ex-handler of the team, Chief Adegboye Onigbinde, has raised an alarm over his ability to chaperon the team to glory. Speaking in an exclusive interview on Tuesday, Chief Onigbinde, FIFA and CAF instructor, said that the fear for Siasia was his ability to identify talents despite his antecedent as an accomplished tactician.
The Modakeke high chief explained that Siasia would not be able to differentiate between a talent and stars, noting that the Super Eagles' coach invited home-based players whom he had never trained technically or tactically, wondering how he would achieve success with them in spite their inadequacies.
'There is a difference between being able to identify a talent from a stars. This are two different things',he observed.
If his boys with which he won silver in 2005 in Holland were under-20, why is it difficult forming a team?
'The truth is that those boys were beyond twenties and thirties', adding that the NFF is the cause of the problem because its technical department is not functional.
The NFF does not have a functional technical department and does not know that it is its duty to train coaches but blame them for not embarking on refresher courses to update their knowledge
He rapped members of the NFF board for being mediocres who thought that they could run football by organinising competitions, noting that they will eventually make Siasia the scape goat. He, however, prayed for his success in his assingment.
Onigbinde said that competitions were like examinations which students often sit for after getting inputs from teachers, stressing that the NFF likes organising competitions for those players they have not made any input into their performance.
The former Shooting Stars Football Club General Manager, who argued that the solution was going back to the grassroots, also condemned the engagement of Simon Kalika by Siasia.