April Polls: President Jonathan expresses confidence in Prof. Jega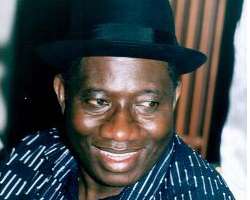 Goodluck Jonathan
President Goodluck Ebele Jonathan has eulogized the people of Kebbi State for their qualities of transparency and integrity, saying this accounts for why he appointed one of their own, Prof. Attahiru Jega, as chairman of the Independent National Electoral Commission (INEC) to superintend over the April general elections.
He stated this today while addressing the PDP presidential campaign rally at the Haliru Abdu stadium in Birnin Kebbi, Kebbi State.
While expressing admiration at the large turn-out and magnitude of support received from Kebbi indigenes at the rally, President Jonathan said Kebbi State continues to provide eminent Nigerians that are partnering with the Federal Government at the centre to move the country forward.
"God has provided people from this state that the Federal Government has made use of. Apart from the president, one person whose name resounds again and again is your own son, Prof. Attahiru Jega. If I don't have confidence in the people of Kebbi, I wouldn't appoint your own son, Prof. Jega to supervise in an election in which I would participate and which we all want to be free and fair. I believe that he would do the right thing, he would not rig or manipulate any election to favour anybody. So the Federal Government and Kebbi people are indeed partners in progress," the president stated.
He promised to run an open government if given a fresh four-year mandate, adding that his administration will take decisive steps to boost infrastructural development across the country, and specifically mentioning that the Sokoto-Kontagora road will be given urgent attention.
President Jonathan also promised to give more attention to the development of science and technology in the country, noting that "nowhere in this world can you fix any economy without science and technology".
 
He commended the people of Kebbi State for their agricultural enterprise in the potato farming and urged them to step up its production for export purposes, assuring that the Federal Government will exploit the opportunities of the agricultural sector to provide employment for the nation's teeming youthful population.
He also said the target of his administration for the next four years is for Nigeria to meet up with the Millennium Development Goals in the health sector, with emphasis on reducing maternal mortality rate and improving on primary health care delivery.
Also speaking, Governor Saidu Dakingari of Kebbi noted that Kebbi, though a young state, is catching up with the older states in terms of development, stressing that the PDP-led administration in the state has continued to sustain peace and security, and also deliver quality social infrastructure to the people of the state.