Fashola: PDP Plans To Rig Lagos Elections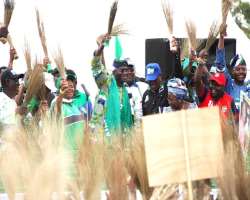 LAGOS STATE GOVERNOR BABATUNDE FASHOLA WITH SUPPORTERS OF THE ACTION CONGRESS OF NIGERIA (ACN) AT THE ACN MEGA RALLY IN KOSOFE LOCAL GOVERNMENT AREA OF THE STATE TODAY, MARCH 14, 2011.
LAGOS, March 14, (THEWILL) - Lagos State Governor Babatunde Raji Fashola (SAN) today told a gathering of over 50, 000 supporters of the Action Congress of Nigeria (ACN) that the People's Democratic Party (PDP) plans to rig Lagos elections.
Fashola made the allegation at a campaign rally at the Centre for Management Development (CMD) open field in Magodo, where the party's flags were presented to Mr. Gbenga Ashafa and Hon. Dayo Bush-Alebiosu, who are contesting for seats for the lower and upper chambers of the National Assembly respectively.
The rally was attended by the state ACN Chairman, Otunba Oladele Ajomale, Deputy Governor, Mr. Sarah Adebisi Sosan, Speaker of the State House of Assembly, Rt. Hon. Adeyemi Ikuforiji and Senator Olorunnibe Mamora among others.
Speaking at the rally, Fashola told a teeming crowd of about 50, 000 ACN supporters that the ruling party "is planning to rig the next elections and foment trouble in the state," urging them to resist the ruling party through their votes.
He explained that PDP wants "to destroy my life and your life. I have no problem with people in the party. But I have problem with PDP itself. PDP is an infectious disease. We must avoid and resist it through our vote."
He tasked the state residents "to resist any attempt to cause trouble here. The PDP is a virus bent on destroying lives. They are trying to destroy my life. They are trying to destroy everybody's life. We must resist this disease."
Fashola urged the Lagosians to give a red card to the ruling party, saying there "is a lot to do, and this is the time to issue red card to the PDP. We must move from house to house to neighbours to be well-prepared.
"We are already gathering information about their plan. They are planning to foment trouble in Lagos State. You must be prepared for them. They are planning to rig. So, you must be prepared not only to vote, but also to move from house to house, tell every man and woman in our vicinity to resist this evil called the PDP in our lives, "the governor said.
Fashola also presented his running mate and Commissioner for Woman Affairs and Poverty Alleviation (WAPA), Mrs. Adejoke Orelope-Adefilure, saying she championed the state team "to build 17 skill acquisition centres across the state where more than 251, 000 persons have been trained in different skills."
He also said the state government just "employed 507 teachers. But the PDP promised 10000 megawatts of electricity. Nothing has been delivered. They now said they made mistakes. The ruling party said they wanted to generate 4000 megawatts. The Peoples Democratic Party is the enemy of Nigeria."
He recalled that his administration "has delivered the Agiliti Bridge in Koshofe. We embarked on 21 roads, out of which 18 have been completed. We also commenced 13 drainage projects, out of which 8 have been completed. We have also delivered 2 million gallon of water in Magodo and 4 million gallons in Ibeju Lekki."
On the engagement of 507 teachers, the governor explained that the teachers "are among about 1000 screened to assist in giving private tutorials to students in the state preparing for the West Africa examinations, ordinary levels.
"They are teachers in Mathematics, English Language, Physics, Biology and Chemistry. The tutorials, according to Fashola, are at no expense to the parents. It is free of charge, but only so possible because the parents and other have paid their taxes," he said.
"Every promise we made to you is a promise in honour. When you voted for us in 2007, you remember flooding at Gbagada Expressway, is the canal not working well now? We have solved the problem. That is what I promised you in 2007.
"I promise you again, if you vote for me, if you vote for other House of Assembly, Senate and House of Representative candidates, we will work for you in the morning, we will work for you in the afternoon and we would work for you at night, we would work for you in the sun and we would work for you in the rain," Fashola said.