AGRIC IS THE WAY TO GO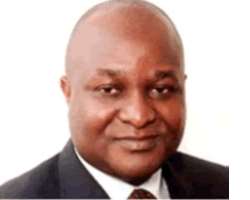 • Lemo
Deputy Governor of Central Bank of Nigeria, Mr. Tunde Lemo is not someone given to regular interviews. But at the recent monthly success Academy programme of his church, The Four Square Gospel Church, in Lagos, Lemo opened up frankly on the economy, as he tried to take the message of economic recovery to congregants
He said that despite the challenges the country is currently facing, the economic outlook for Nigeria clearly indicates that it is possible to grow above the 77 per cent GDP target. The biggest potentials, surprisingly, he pointed out, could well be in the agricultural sector
FESTUS ODUME presents the excerpts.
Global economic outlook
The world is sluggishly recovering from the global economic meltdown; we are witnessing some level of recovery but well below expectation. The data from the International Monetary Fund (IMF) on world economy outlook, which came out on January 25, 2011, were able to give us the highlight of the economic growth in some countries.
United State of America (USA), for instance in 2010 grew by 2.8 percent, which is very remarkable because even prior to the meltdown their growth never exceeded 3 percent. But this is not cheering news. This is a growth that is very expensive for those of us who knew how they powered that growth, it was through (QE) what we called quantitative easing. Quantitative Easing is when they practically printed more dollars and flushed the market with dollars.
But it's not just the US market because the US currency is the defector global reserve currency. In fact the US dollars that circulate outside US are much more than the dollars that circulates within US. I can tell you categorically that the US dollars we spends in Nigeria far exceeds what is spent in a state in US, their total cash economy. So when US does that, the implication is that indirectly all of us are taxed.
That is why US dollars has been weakened and a weak dollar is not good for Nigeria because the only thing we rely on is oil and in the international market it's denominated in dollars. So implicitly if you look at that price with the baskets of other currency, what its means is that you are getting less for your dollars as US spends more. So you can then see why oil price has been going up in the last few months.
It's not going up because of the demand-pull or any economic fundamental, it is the adjustment that is necessary because of the weakened dollar. Their economy grew by 2.8 percent but its causing them so much and there may be assets bubble tomorrow just because of the size of the currency they are flushing out, it's projected to grow by 3 percent this year.
The European area is worst. It is so because the European economy is an amalgam of the good, the bad and the ugly. You have the strong Germany, France, but you also have what they called the PIG economy, Portugal, Italy, Greece, and Spain they are the lagers, and you know what happened to their economies. Some of them had a serious catastrophe last year which drag them down.
Because of that, their growth had been sluggish, it grew by 1.8 percent last year and it's even estimated to grow by slightly less this year, largely because of the burden of loans in the PIG area of the Euro. Germany is the strongest economy in Euro, it made a remarkable outing 3.6 percent growth in 2010, but then, there is a warning signal that the German economy would not be that lucky this year.
Because of so many factors, one of which is, of course, price of energy. Energy cost is rising and demand for their products is sluggish. Because of this, there may not be more cheering news. Japan made a very good outing 4.3 percents, but also has signals that it may not grow more than 1.6 percent this year. The reason was that again as a very industrial nation and the second biggest economy in the world because of the impact of energy on their economy.
For United Kingdom they grew by 1.7 per cents, they may grow by 2 per cent this year. Well, put a big question mark on that as, due to the increase in value added tax (VAT), consumption may go down and if that happens, it may also impair their growth. Of course the new government in UK got it wrong by embarking on cut back and cut down just because of the size of their deficit.
They are getting it wrong because that will further exacerbate the problem and they may not achieve that 2 per cent growth. That is my view. China I think has the best growth record: 10.3 per cent, which is very good. They may achieve about the same feat this year. Again the world particularly US is not happy with them because they think the only way China is pushing out their export is because they are cheating on their currency.
Everybody believes that Chinas currency, the Yuan is terribly under value and so its making China's products very cheap and once it's cheap its help to stimulate their exports and that is where most of the good numbers are coming from. Indian is not doing badly 9.7 per cent and is anticipating 8.7 per cent this year. Brazil is an economy I like a lot, in 2002 the IMF verdict was that the Brazilians are not serious.
Because they say it's an economy of tomorrow and so it shall forever be, because they felt they are not getting it right. But when they began to grow in leaps and bounds, those who castigated them were shocked. They could not believe what was happening. Brazil is an economy to watch and I think Nigeria should look at what Brazil is doing and benchmark itself with it.
If we can do half of what they are doing, we will be fine and okay because they are black nation like us and they have the same challenges like us. But because of the recent flood disaster in Brazil they may not be able to achieve up to 7.5 per cent growth. That's why they marked down their growth expectations to 4.5 per cent this year. Sub Sahara Africa which includes us, excluding the Arab nations who are having political issues now, grew by 5 per cents last year and the expectations is that it would achieve 5.5 per cent this year.
You will ask where Nigeria is in all these. Nigeria grew by a little over 7 per cent last year. We are also hopeful that, at least, we will achieve 7 per cent growth this year. I hope the political activities will help us to achieve that.
Federal Government budget policy stance
Of course we know that in a country like Nigeria, where economic activities revolve around the happenings in government, you cannot talk about economic outlook without really looking at the government budgets and the level of government spending and what they are contemplating in their fiscal activities. Because the fiscal space is too big that it has virtually crowded out everybody else.
And when you talk about economic outlook, you are actually by default going to talk about what is it that government plans to do. So government economic activity has almost become a proxy for the entire economy, which is very unfortunate. That is why we are not growing because government activities all over the world are not known to be efficient users of resources.
Everywhere else, people are talking about smaller government, how do we conduct our economy, so that government gets smaller and the privates sector gets bigger? That is the only way we can have a sustainable economic growth. The 2011 budget tends to foster inclusive growth and job creations, optimize capital spending by rationalizing recurrent expenditure and maximizing government revenue.
In other words, more of the money will be spent on capital goal project and not recurrent expenditure. You were following the controversies between my boss Mallam Lamido Sanusi, the Central Bank Governor and the national assembly. I would not say much on that, but the good news here is that notwithstanding all they said about him. He has been vindicated because, at least, they have started to do what he said should be done.
That we should spend less on recurrent and put more on capital formation. I would not say more than that because I have a lot of respect for the national assembly and they help our works to grow. We should actually be working together as a team. Another statement of intent is that they will reinstate greater prudence in the management of the nation's financials resources and this is very important.
I pray they do it because year after year, whenever World Bank comes here to do review, they always say that the efficiency of government spending needs to be looked into. What do they mean by that? When you spend one naira on something, do you get value of 70k, 60k, 40k, or 30k that's how we measure the efficiency of government spending, now the higher the efficiency, the lower the inflations.
This will also help growth and development. But if the efficiency is low, people will remain poor, even though more money is being spent. It will be worst because infrastructure will be decaying, more money on its own is damaging to the economy, because, it's much more inflationary when it's not backed by genuine economic activities.
Budget assumptions.
The key assumptions are that oil price will be at $65 per barrel. This is a very realistic assumptions, now the benefit of this is that if we are lucky like last year, last year average prices where well above 75 dollars per barrels, we would then be able to have backed excess crude. You know the saving we had before, which was at the peak of 20 billion dollars, but it's down now to 3 billion. So we would be able to have back the accruing benefits.
And now that the government has set up the sovereign wealth fund, which is the money you set aside and invest for future generations. At least they have woken up to that for future generations, it is even much better so that our grand children do not come to see infrastructure that would have decayed beyond this and then there would be nothing left for them. Particularly, because what we depend on is wasting asset.
Give it another 20 years, nobody is sure if we will still have crude oil. The life expectance of crude oil between now and then may be a maximum of 20 years. So we need to save some money for future generations. There is an assumption that exchange rate will remain N150 to a dollar, I don't have any comment on this and I should not comment on this because exchange rate is determined by economic fundamental through the Central Bank of Nigeria (CBN) and I will not say whether they are right or wrong because of the sensitive nature of exchange rate, I hope you will pardon me.
Deficit budget.
Before now we have been borrowing mostly from abroad which has led to the problem we had in the past and its was exacerbated by foreign exchange issues because of the naira not being an internationally convertible currency and which also suffers significant depreciation. Our debt in naira term just went up as naira was sliding. We learnt our lesson, we got rid off most of our debt at the time we concluded the debt relief.
We reduced debt stock of close to 35 billion US dollar to about 3.5bn. Now the total debt of Nigeria is back to where it was before. The only different now is that the bulk of it, are local debts. When people come out and say we have gotten rid of our debt I just laugh. 86 to 87 per cent of our debt is now local debt, debt owed to contractors among others and then treasury bills and bonds that government sells. However, they are not as harmful as foreign debt, but they can also be harmful.
GDP Projection
The Growth Domestic Product (GDP) growth rate is estimated to be 7 per cent; I think this is very realistic given the fact that we achieved that last year. But the key thing here is that we hope the political activities will not distract us. We just came back from a road show and part of why our 500 million dollars bond was oversubscribed and we had a coupon that is below 7 per cent is because we had successful primaries.
Oil production is expected to remain at the present level of about 2.3 million barrels per day. I think this is where we need to commend government. Really you recall that 3, 4 years ago it was as low as one million during the Niger Delta crises. But the amnesty is working very well let hope the peace would be sustained. One of the reason we may even achieve more than 7 per cent growth in economy is the fact that Agric sector accounts for about 42 percent of our GDP.
GDP is just the summation of all economic activities. In Nigeria, agriculture is still basically subsistence in nature. What this means is that if you grow agriculture you grow the GDP because 60 to 70 per cent of Nigerian are still directly or indirectly engaged in agriculture and that is the sector to grow if we must grow. Because I am privileged to know that both the fiscal and monetary authorities are genuinely doing something very realistic to grow agriculture. It will power the growth of our GDP this year even beyond 7 percent. My view is that we should be able to achieve more than 7 per cent. With our resources, we should be growing at 10 per cent.
Potentials in agricultural sector
Let me tell you what we are doing: There is a company called Alliance for Green Revolution in Africa (AGRA), the chairman of AGRA is Kofi Anan, the former Secretary General of United Nations, he has been doing a lot of work to help African countries to pay more attentions to agriculture. Central Bank of Nigeria (CBN) in conjunction with (AGRA) is instituting a programme aimed at the development of value chain around seven agricultural commodities.
The initiative will identify both commodity and financing value chain with a view to reducing the inherent risks and encourage easy access to finance through bank lending for operators in those commodities. Let me give you an example: About 90 per cent or more of dairy products are imported.
What do I mean by that? Well you would say we have Promasidor, West African Milk but do they produce in Nigeria?
The basic diary raw materials they use are imported in concentrated form and that's what they come to add water here. And that is bad, why can't we invest in agriculture and have cattle that would be producing these dairy products? If you go to these multinationals and ask them why they are not buying from Nigerian? They will tell you there are risks, how many farmers will guaranty me so many tones of dairy.
And if I don't get my supply on a daily basis, I will have to shut down my factory. There is risk of availability, consistency, quality among others. So what we are doing with AGRA is to actually look at those value chains and see how we can organize such that each of those risks we can do something about it, So that these companies will not see any problems in patronizing Nigeria.
Let me add that somebody has done it and has done it well. One of the legacies of Governor Bukola Saraki of Kwara State is the Zimbabwe farming schemes. He experimented on those dairy products and his been able to hijacked about 10 percent of the supply gap that we have seen and its working very well. Just imagine if we multiple these opportunities by 10.
Then we will save a lot of money on the diary products that we import and we would be able to provide employment. The good news here is that you do not even need to have a mega farm. Some of the plans are to give guarantee to banks, that should there be default we will pay. One of that will result to capacity building, in such area as how you milk the animals such that the milk is not contaminated.
Some of it could be ensuring that you give drugs through veterinary doctors so that the animals are not killed by disease. We have developed these around seven products these are cassava, cotton, tomato, maize, soya beans, rice and cattle. And before June we are going to roll out a programme on that-in collaboration with AGARA. For those that are thinking of going into agriculture, they should take note of these seven agricultural commodities.
Operators could be in any segment of the value chain- including, input, production, storage, processing, marketing and distribution. The other example is rice. Do you know that in Nigeria today we can double the supply of local rice? We discovered that almost 50 per cent of rice produced locally is lost before or during process. By investing in that alone you can double output.
While you have not talked about production, about 70 per cent of tomatoes get wasted before it gets to the end users. This is not exaggeration. To tackle the agric financing challenge, CBN and AGRA will develop and structure an appropriate risks sharing facility to reduce risk faced by banks and incentives agric lending; evolve an insurance assistance facility to encourage development of agric related insurance products by insurance companies, facilitates capacity building among stakeholders and create bank incentive mechanism.
In addition to the initiatives, there are also the N200 billion commercial agriculture credit schemes. A total of N96.8111 billion has been released to banks for disbursement in connection with 104 projects. Guess what they are paying? Interest rate of less than 9 per cent or less! But you have to operate large scale to benefit. But there is also agriculture credit guarantee scheme for small scale farmers.
We have been operating that in the last 15 to 20 years in CBN, but many of you particularly in the south, are not aware. I checked the analysis sometime last year and found out that 70 to 80 per cent of the people benefiting are from the north of Nigeria. The benefit of agric credit guarantee schemes is that once you are under this scheme, the bank will lend you money because the banks knows that if you do not pay CBN will pay.
Why are we not taking advantage of it? Last year alone over 3,000 of them defaulted and we paid N30, 929 million in the same year. There is interest draw back. This is very interesting. What is interest draw back scheme? If you go to borrow money in a bank for agriculture and they charge you interest and you paid, the moment you pay back that loans, you can apply through your bank to CBN and collect back 40 per cent of the interest. It only takes one or two months and you get 40 per cent of the interest back. If you have been charged may be 20 per cent you will collect 8 per cent. So all they have charged you is 12 per cent.
Capital market
We are very happy to say that the stock market is recovering; although people are still skeptical. The market goes up and down, but let me tell you, that is how people in the world make money. The capital market thrives on sentiments, so when the prices are rising, those who understand what they call the fundamental when the market is bubbling, and that when they will slow down and they will be selling their shares and you will be rejoicing that the market is rising you go in and they collect their money back. When you move with the crowd in the capital market you will lose money.
As hinted last year, the stock market recorded appreciable improvement last year. The All Share Index (ASI) grew by 18.93 percent last year, indicating returns on investment for a basket of selected stocks across various sectors of the NSE. This was better than two times the yield of a fixed deposit in 2010. Activities on the Nigeria Stock Exchange (NSE) so far in 2011 are suggestive of a better performance, although its performance may be moderated by the effect of government borrowing.