SOUTH-WEST WILL VOTE JONATHAN, BUT NOT PDP - BABATOPE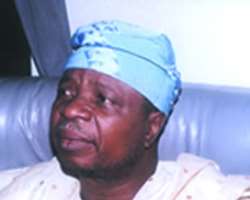 •Babatope
A member of the Peoples Democratic Party, [PDP] Board of Trustees [BoT], Chief Ebenezer Babatope has expressed confidence that the Party presidential candidate and incumbent President, Dr Goodluck Jonathan would win convincingly in the 2011 presidential election in all the geo-political zones in the country.  The former Director of Organisation in the defunct Unity Party of Nigeria, [UPN] in the Second Republic dismissed the permutation in certain quarters that there could be a run- off  in the presidential election, as he declared that President Jonathan would win at the first ballot.
But unlike some of his colleagues in the PDP  in  the south west playing the ostrich that all is well with the party, Babatope expressed concern that  his party fate hangs in the balance in the zone, particularly in Ogun state.
Excerpts:
President Jonathan, the PDP presidential candidate has been engaged in rigorous campaigns across the country; but some have observed that the party might not do well in the south- west and the north -west geo-political zones. Do you share the fear?
Well, those who are saying that the PDP would not do well in the South-West vis. -avis the presidential election, their fear is  misplaced. I want to assure you that  the Yoruba people are politically sophisticated people and they will vote massively for Jonathan.
I agree that for the other elections we would struggle very hard to win, but for the presidential election, the Yoruba will vote Jonathan and because of many reasons which are based on history of Yoruba political leadership and the Yoruba people. Our people are politically sophisticated and intelligent people. I will not say more than that.Those who understand the meaning of what I said would have got what I am saying.
You also talk about North- west. Well, I am not from the zone, but at the end of the day even if we are beaten in the North- west, it will not be a margin that would be politically uncontrollable. I can say by the grace of God and by the supreme will of the people of Nigeria and by the fact that we in the PDP we have never under estimated or underrated anybody, or any party  in Nigeria, President Goodluck Jonathan will win at the first ballot .
But some are already envisaging that there would be a run -off There can never be a run off.  I thank God that Chief Awolowo  gave me the opportunity to serve as Director of Organization of his party. Look, all these things are organization  matters. If you take North-Central, the PDP will win North- central geo-political; the PDP will win the North eastern geo-political zone, no matter what margin, we would win and convincingly too.
The PDP  will win the south-south zone and the party remains the party to beat in the south -east  and in the south- west the PDP will win the votes, no matter the calculation of the opposition party . Yoruba will vote Jonathan and like I said, in the other elections we are going to fight hard, because the Yoruba people will decide who they will give their mandate to, based on the programmes and activities of those parties, because the Yoruba know what they are doing.
So, when you put all these things down, you find out that President Jonathan  will win at the first ballot. Forget run off! Anybody contemplating run off, is wasting his/her time and if you are going to have run off as they are saying Nigerians would now have to revert to situations, whereby you have groups of tribal chieftains converging. That's  not  going to happen, because Nigerians have moved. So, apparently, Jonathan will win on first ballot.
You sound so confident, but as we speak the PDP control only two states in the south west.  How are you going to do it?
But PDP is in control of Ogun and Oyo.  You are saying, by your theory that the PDP will win those states. Of course, Bayo Akala will  win Oyo state, I can tell you that but the major reason for that, I will not state here.
Why not avail the readers?
If I do that, I will be bringing out a material that can be used by the opposition parties and they will try to correct their political mistakes. So Bayo Akala will win Oyo state; Ogun, I know that with what everybody is talking now in the PDP, it will be easy to bring the two rival groups  together: the Obasanjo- Martins Kuye group  and also the Gbenga Daniel group.  We are going to do that.
Is it not belated? They have moved to another party
If they have joined another party, it doesn't matter. It doesn't mean that we can't convince him to come back. We are going to ensure that everybody that is aggrieved comes back to PDP and they will do so and don't  forget that Daniel had said he would not leave the party, because of  his friendship with Mr. president.
In Osun state, it is a PDP  state, we lost through the judicial manipulation; the same thing in Ondo, where my brother Mimmiko is the governor  under Labour Party. But the PDP is well represented in the Yoruba south west states. But like I told you, I can't sit down here telling you, this is going to be run of election in the other elections in the South-West states of Yorubaland.  But I know our people, there is nothing that will make them to deviate from voting for Jonathan and vote for any other person.
This presidential election will not be decided on party platform, but based on what I call the historical perspective in this country  and given the historical antecedent of the Yoruba people whether you are talking about their leadership, or the people themselves who are politically enlightened and whether  you are talking about structural and social values that binds us together in Nigeria. That's why the Yoruba will vote for Jonathan and …
You keep talking about leadership of the Yoruba; but with due respect, there is no rallying voice now,  who will tell the people the political direction?
But we have our antecedent . Don't forget  that Chief Awolowo was a nationalist ,a great leader in Nigeria, Africa  and a leader in the world. But fundamentally, he was first  and foremost a Yoruba and so his legacy  is still intact, the principle  of Awo is still intact. So, we may disagree on where to go in terms of being PDP, or AC  but we will not disagree on the fact that the rallying point of the Yoruba people has been Papa Awolowo and it is part of the factor that will make Jonathan  to win.
It has been forgotten that Awolowo  during the Second Republic when he was campaigning in one of the riverine areas of Ijaw land said that one day, there would be an Ijaw man that would emerge as president of Nigeria! At that time the Ijaw people didn't support Chief Awolowo despite the fact that he had organized the core Calabar-Ogoja movement and had supported them during the Willinks Commission, but he said so.
He predicted the coming of Jonathan that one day, an Ijaw man would be the president of Nigeria and it has happened.  Honestly, it was that statement  that, great statement was a pointer to the fact that Yoruba people are politically enlightened people and you don't have to goad them on how to vote during elections. That's why I tell you with confidence that the Yoruba people will vote Jonathan. They may have minds which I can't tell you now  on other elections but on the presidential election, they will vote Jonathan.
But a lot of people from South-West took exception to his comments, when he referred to  leaders  who had formed government in the zone as rascals. That isn't correct. Honestly, I have been alarmed when people tried to misread, misjudge, misinterpret what he said and he came out to say that, ''I didn't say that  those who are governing South-West are rascals.'' So, what else do you want when the man said, please, get me right.
I want to tell you something: even in the usage of the English language, though I am not an English man, when you call somebody a rascal, it is capable of two meanings . A rascal could be a man  who is involved in the struggle for radical change.  And then a rascal could be taken in the manner of being derogatory.
But  an average Nigerian politician doesn't  speak in glowing terms about  his  rivals , at  political rallies No, even in Yorubaland. Look, Taiwo, if Yoruba people call somebody omo ita [ a derogatory language for  rascal] but if  they call you ipata-it sounds very positive and describe that person as a revolutionary. But they now blow it out of proportion. My brother, Tinubu, went to Ibadan and made it an issue.  I don't agree with him and I knew he himself doesn't agree with all he said and that's why whatever anybody says on the soap box shouldn't be taken seriously.
So, president Jonathan never used the word rascal, derogatorily to describe those of them who are ruling in the ACN in Ekiti  and Osun.
How can he use a word that is so bad on the governor of my state? I don't belong to the same party with Rauf Aregbesola, but I don't hate his person. He is a very brilliant person, but we aren't in the same party. Again, people forget this that if the President has learnt to deride the ACN people who are in power..he was among the first to congratulate Kayode Fayemi when he was pronounced the  Governor of Ekiti State by  the  tribunal in Ilorin.
You were an active player in the politics of the Second Republic. If you were to do a critique of the language of  politicians of today in comparison to what obtained then. Would you agree with those who had submitted that it has been a descent to vulgarism and lack of depth even in presentation of party manifesto?
Well, it would be unfair for me to do that comparison, because in the Second Republic we had leaders with experience: Chief Obafemi Awolowo , Chief Nnamdi Azikiwe, the late Alhaji Aminu Kano-  so, you find a situation, whereby leadership in party politics, impact on the followership. When these great  men were speaking  good language, the followers learnt from them. But we had military intervention for sixteen years so apparently when you now had a new generation of leaders you can't expect that what happened in the Second Republic would happen now.
But I can tell you that, if you have been following the presidential campaigns of President Jonathan, I can tell you that he addresses issues. He talks about water, electricity, security, petroleum availability and I hope that others will take time to copy from what he has been saying. I think the Nigerian Television Authority, the African Independent Television  and other  televisions stations  in Nigeria could assist in getting old tapes of the campaigns of these old leaders: Awolowo, Azikiwe, even Shagari-to some extent-  Balewa, Ahmadu Bello and replayed them so that current actors in Nigerian politics can listen and learn from what they said and the  way they conducted themselves .
But why the fixation for Lagos. Each time  PDP addresses  a rally in the South-West  it talks about  its resolve to 'capture' Lagos. Even this word capture, I don't know what they mean by this, because we aren't military people. When the Alliance for Democracy  lost elections in 2003, my friends are there, Bisi Akande, Lam Adesina, Segun Osoba - they are all my friends-they knew why they lost  that election.
I would only give one reason: a house divided against itself will not stand. The AD at that time was sharply divided. They were fighting their leaders and then you had the governors who were trying to protect the political power in their hands. So, a divided house came to face the PDP. So, if the PDP says it wants to win in Lagos, why not?  We  think we have what it takes to win, but I am afraid we shouldn't  use the word, capture. It is soldiers that capture during wars.
But let me say this and I want you to interpret it very well, without any kind of allusion that would make what I am going to say to be misconstrued. When  we  go for  elections in Lagos State, the PDP had a good candidate  in Dr Dosumu, I agree with you, but Fashola had done very well. I am not going to predict that Fashola would win, or lose. I as an individual, I love Fashola achievements, but his election would be very different from the other elections in Lagos state. Quote me, Fashola's  election would be different from other election in Lagos State. Lagos State has a highly articulate cosmopolitan people and they will choose candidate on their merit.
So, gone are those days when you shout ''ACN, ACN!'', Fashola will have to work very hard, in spite of his achievements. But all said and done , it is possible that he will be returned by Lagos voters. You should also recollect that  it took  his party a long time to be convinced of Fashola's candidature. I was praying that the ACN should dump Fashola  and I was ready to be involved in my party negotiations to ensure that he comes to contest on PDP platform!
But eventually the ACN capitulated and then decided to field Fashola. But this year election will not be rosy for the ACN. The party has shot itself on the foot by dropping some candidates who definitely would have been crowd puller for them. I don't want to go into that, but the party knows what I am talking about . It was wrong of ACN  to have dropped Mamora.
What do you make of the meddlesomeness of Chief Obasanjo in your party affairs in  Ogun state. A former president and chairman of the PDP Board of Trustees  who should be  partaking in trouble shooting mission, now fanning embers of discord?
I would not want to comment on Ogun as one of the leaders of the party and a member of the  PDP BoT. I know that the party has been making frantic reconciliatory move  to ensure that things are in order in Ogun State and like I told  when I was talking about the AD, we know that  a house divided against itself can't stand and if at the end of the day  we of the PDP are unable to manage the crisis in Ogun state it might end very catastrophic for us. I don't want to mention names  of  people, but if we give opposition parties, particularly the ACN  the opportunity  of taking the state.
As regards Obasanjo, he should be seen as an individual, he has a right to participate in politics and influence opinion. It depends on the people to either accept his intervention or accept his leadership, but he has a right to do that. But don't you think he is too overbearing in your party affairs in Ogun?
Well, I won't say too  overbearing and I won't say, because he was former president, therefore, he should close his eyes  to politics in his home state. But we of the PDP  must ensure that we effect proper and effective reconciliatory measures. If we don't do that, I can assure that the PDP may say good bye  to Ogun State and that will be very sad for me and many people who love what  PDP  have been  doing in the state.
What do you make of the recent comment by Obasanjo when he  described the elaborate reception  for Bode George as celebration of criminality?
Well, I was one of those who went to church to join my friend, Bode George in the thanks giving service, after he left prison. I didn't participate in celebrating criminality. Bode George has been known to me for twenty-four years, we have been friends. We went to the same university and we have been friends since that time. So apparently that my friend was coming from jail would not stop me from being  a party to what he was doing. So, people should not mix things up. If I didn't go to church and our other friends who have known Bode George didn't join him in church to partake in the thanks giving service that action would not be in consonance with the culture of people who call themselves friends.
Obasanjo has a right to take part in anything he wants to take part in. He has a right to say his mind about what he has taken part in and he has a right to issue statement on matters that he feels very badly about. So, I don't complain at all that he gave those opinions-those are his opinions and in a democracy he is entitled to those opinions.
But don't you think what he said was an afterthought-that he was trying to play safe, considering  the scurrilous public reaction to the lavish reception for Bode George?
Well, in Yorubaland, a young man doesn't criticize the conduct of the elder. We may disagree on principle and write books based on principle-- don't forget that when Obasanjo wrote, 'Not my Will,' which contains some condemnations of my leader,  Chief Awolowo  I wrote my book, ''Not His Will:  the Awolowo, Obasanjo wager'-that's a different matter. So, as a young person, a young Yoruba man it will be sacrilegious  to be seen to be commenting on the conduct of another person like Obasanjo. He has got a right to say what he wants to say.
But let me humbly comment on some aspects of his statement, particularly where he said Bode George misbehaved in prison. I don't know why he said that, but if you talk of misbehavior in prison I am in a position to talk extensively about that one. I am not going to dig out how political prisoners, detainees or even prisoners, how they ensured that they survived the ordeal of imprisonment . A famous General in Israel said, nobody lives the prison completely sane.
That's correct: prison is a cocoon of misery. When you are locked up, for two hours, you find out that the difference of being locked up in two hours is so clear  from being a free man.
A lot of things were done by us when we were in prison. I spent fifty months in Buhari's prison, I served my  twenty months detention under Buhari's regime in Kirikiri prison, where I spent three months and I spent one year in Jos prison and  I spent some months of my detention in Yola prison. There are many things we did, even the prison authorities cooperated with us , because they knew that if they didn't cooperate with us many of us would have left the prison completely insane or completely dead.  In fact, we were even able to do some things that I wouldn't talk about now which were extra-ordinary to the eye, to save our lives.
So, if  apparently Obasanjo's  definition of misbehavior  is contained within what I have said now,  then Bode George has got a right to save his own life while in prison. A  convicted person is entitled  to receive visitors in prison, except when you are a political detainee, when you cannot even carry a transistor radio, you are even denied certain food items.  So, if Bode George was receiving visitors it is within the prison regulations that convicted persons have the right to receive visitors. So, if Obasanjo was also equating that to misbehavior, I want to submit, very humbly to him that it isn't misbehavior. Every prisoner has the right to preserve his own life.
Obasanjo's argument was that the elaborate welcome, right from the prison premises, where Bode George was released and rode to church was wrong; that it amounts to perversion of values.
A man who goes to prison, the prison authority will take their hands off him when he signs off and he goes out. It is no longer the business of the prison authority. It is what happens inside the prison that they can be held responsible for. So, those who are saying some people met him outside the prison, the man has left prison and therefore, he isn't the first prisoner. There is an aspect of it too that Obasanjo said George  was getting involved in political activities! Politicians will always be politicians.
I want to give you an example. When Chief Awolowo was in prison, he needed not to put his hands on paper before you knew that he was a great influence on Nigerians, particularly those who believed in him.
It was from prison in 1964, that he sent his famous statement which was read by the Western wing of the Action Group and which he said that the Western wing of the Action Group should see itself as being part of an AG that was  national movement  for the political liberation of the people of Nigeria. That statement is still being quoted up till today. When I was in prison, it will surprise you to know that there was inter-prison correspondence. We were connecting all our colleagues in various prisons in the country at that time.