VISAFONE SUBSCRIBER BASE EXCEEDS 5M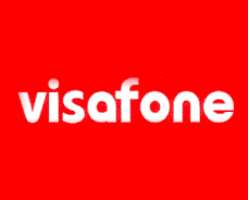 Contrary to the believe that code division multiple access (CDMA) is gradually dying, Visafone communications  revealed  recently that its subscribers base has hit five million ,while active subscribers base is four million.
According to one of its management  source, the company is in excess of over five million subscriber but well over four million active subscribers, saying, 'The issue of CDMA does not need to arise anymore, we are a mobile operator  wether it's 3G,GSM, CDMA, its irrelevant so far that the customer can pick up his phone and make calls .As long as there is clarity of calls  and no drop calls, I do not think that customer mind wether  its GSM or CDMA because this is a technology issue but how well the operator can connect its customers should be everyone's concern.
'Our strategy has always been to have good coverage and a better network in all the cities and towns that we operate.
In the area of data,it is quite fast because Visafone is operating the EVDO.
In a similar development, the company opened an ultra modern shop on Awolowo road, Ikoyi thus expanding its retail presence to 44 shops comprising 28 mega shops and 16 mini shops nationwide.
Situated at 60 Awolowo Road, the shop is tastefully designed to incorporate a new interactive retail design inviting customers to experience top of the range services like high speed broad band internet and voice connection in a sleek, full-service environment.
Roomy and easy to locate, the shop is equipped with modern technology and other integrated systems and operational enhancements designed to streamline the sales process and increase customer's satisfaction.
Head of Customer Care Visafone, Lynda Amechi ,while conducting journalists round the premises said; 'The Awolowo shop is designed to give every customer a feel and touch of world class Customer Service. From our caring professional employees to the shop ambience, each visitor is set for a remarkable experience at every step.'
Also, customers have access to all Visafone services, such as 3G Superfast Internet and affordable Modems as well as other special packages. The 3G super fast Internet offers customers quick and easy access to the Internet at 300 kbps on the EVDO Gold packages, 150 kbps on the Silver package and 153 kbps on shared basis available on the 1x range of packages.
These packages are suited to meet each customer's need of various time belts like All-time surfer, Day Surfer, Night Surfer and Express Surfer which gives customers access to internet at night on week days and 24 hours access at weekends. Also in the offering are the hourly bundles in which customers can purchase either 100 or 250 hours valid for 30 and 90 days respectively, which are available on both 1x and EVDO bouquet.
Similarly, customers also have the opportunity to enjoy the Visa Mobile Office designed to offer them access to and management of Personal Information like email, calendar and contacts from their mobile device.
Visafone is known for its programmes that reward its customers, apart from giving them value for money through attractive tariffs and excellent voice and data quality.
Visafone has recorded several firsts since its establishment, the most recent being its certification by CDG as the first Open Market Handsets (OMH) compliant network in Africa. Visafone has won several prestigious awards for excellence, innovation and customer initiatives.