50% THAT IS THE MINIMUM NORTHERN VOTES JONATHAN WILL GET - YERIMA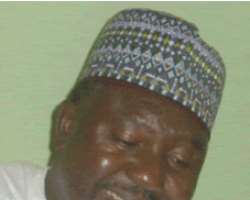 Radical politician and founder of the Northern Friends of the South-South (NFSS), Alhaji Suleiman Yerima, has said that 50 per cent of the presidential votes that would come from the entire northern region during next month's elections would be in favour of President Goodluck Jonathan. He made this statement in a telephone interview with Daily Sun.
Yerima also said that for the first time in Nigerian politics, the north is sharply divided into two ideological blocs, with one part agitating for progressive change from the status quo, while the other, making up of the old and disgruntled politicians are in the other bloc, who are hell bent on ensuring a continuous impoverishment of the region.
He made these statements, when his opinion was sought concerning a news report (not by Daily Sun), of moves by a socio-political group, Arewa Consultative Forum (ACF), to mobilize ex-military officers and retired senior police officers to support former Head of State and presidential candidate of the CPC, Muhammadu Buhari in his bid to become next president.
He wondered why the group should call for a meeting of all former ex-military and police officers from the North alone for an alleged solution to rising security threats in the country, when other ex-military officers from other regions were not invited into the meeting with Buhari. He also noted that involving ex-military officers to discuss such sensitive issue without involving serving security personnel across their various departments who are better informed about the current security realities in the country in a democratic setting calls for caution.
'Let me assure you that no matter what any group, persons or politicians in the North are seen to be doing to deny President Jonathan the overwhelming support of credible votes from the region, is bound to fail woefully. Even though it has been denied by the ACF that they were not mobilizing support for Buhari, the fact is that, if it were true, all the military ex-officers, including the serving ones in the country, if put together, cannot help in defeating Goodluck Jonathan or change what God has already guaranteed,' he said.
The business tycoon said that, 'Gone are the days when someone would just wake up and tell us in the north to do something and we would do it without us questioning or analyzing the situation objectively and critically. Nigerians must realize that a new class of intelligent northerners are now on ground and are awake to the realities on ground to make their own decisions.'
'Let me also assure you that more than 50 per cent of the votes from the north would be in favour of President Goodluck Jonathan, because we in the north have been able to see in the short period since he has assumed power, that he has been able to impact positively in the life's of people of this region in particular and the country at large,' he said.
He described as ethnic and tribalized bigots, those agitating for power to shift back to the north for their own selfish interest rather than for the country as a whole. 'Those claiming to speak for the north and are clamoring for northerners to support a northern Candidate are only tribal bigots, who are hell bent in ensuring that the region remain ignorant and backward. They are only interested in retaining power amongst the old oligarchs and for their own selfish reasons.
After all, the north has ruled longer than any other region in this country, yet the region remain backward, diseased prone, and filled with beggars and large numbers of illiterates. Those of us clamoring for positive change belong to the progressive north, which has the best interest of Nigeria at heart rather than our personal interest,' he said.
He called on fellow northerners and Nigerians in general, to join the Northern Friends of the South-South (NFSS), in supporting President Goodluck Jonathan in achieving the change that the country needs so as to get into its promised land. 'I therefore call on all progressive thinking northerners and all Nigerians to join NFSS in supporting President Goodluck Jonathan in this race to get us into our promised land.' He said.