Bad Outing For Daniel, Booed At PDP S/W Presidential Rally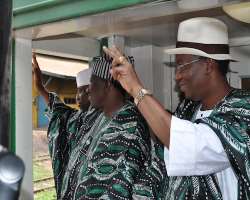 SAN FRANCISCO, March 13, (THEWILL) – Embattled Ogun State Governor, and South-West Coordinator of the Goodluck/Sambo Presidential Campaign, Otunba Gbenga Daniel was booed at the South-West Presidential rally of President Goodluck Jonathan and Vice President Namadi Sambo, inside the Gateway Stadium, Abeokuta, Ogun State.
The humiliating and embarrassing incident left Daniel embarrassed and could only manage fiddling with his mobile phone throughout the rally.
Recall that a peace meeting was brokered between the governor and former President Olusegun Obasanjo yesterday by respected jurist, Chief Afe Babalola after a protracted supremacy battle between the warring politicians for the control of the Peoples Democratic Party (PDP) state executive. The governor told journalists that he begged and apologized to Obasanjo over their bitter disagreement.
Daniel who was sandwiched between President Jonathan and former President Obasanjo received jeers and boos from party supporters whenever his name was mentioned for recognition by various speakers.
The governor was completely sidelined throughtout the event.
But President Obasanjo would not condone the humiliation on the governor. Looking visibly angry, the former President told the crowd in Yoruba that irrespective of what Daniel may have done, the Office of the Governor must be given its respect at all times.
"Today Otunba Gbenga Daniel is the governor of Ogun State so he must be accorded respect no matter whatever he has done. Do not pay him in his own coin. I take serious objection to your booing him when his name is called. What you have done now is uncalled for.
"In Yorubaland, we must respect age and authority. He must be accorded the necessary respect. Until May 29, Governor Gbenga Daniel remains the governor of this state, he must be accorded the respect, dignity and honour that he deserves. If he does not give anyone that respect, we don't have to pay him in his own coin. You must show that you are well bred," Obasanjo said.
While thanking and commending President Jonathan for fulfilling his promise and campaigning in the state, Obasanjo said, " I want to thank you President Jonathan, because for a while, we were not sure whether Ogun State will be passed over in the series of campaign that you have been carrying out in the country because of threats and intimidation. But you did say, you will give Ogun state a whole day and you kept your word. So we are laughing last again and laughing the best. Mr. President we thank you for that. You arrived here by train. No other state has enjoyed that honour."
Governor Daniel Greets President Jonathan at the Presidential Wing of the Murtala Muhammed Airport, Ikeja on his arrival with Acting National Chair of the PDP, Dr. Haliru Bello Mohammed. They left for Ogun State shortly after.
On his part, President Jonathan reiterated his promise to improve power generation and supply nationwide. He also gave assurances that more jobs would be created while promising to repair petroleum refineries and building new ones.
Jonathan, who arrived Abeokuta via rail from Lagos, said it was the vision Obasanjo to have Nigerians travel by rail nationwide but added that without power small and medium scale business would not thrive.