I SUFFERED CANCER AND GOD HEALED ME - DAME VIRGY ETIABA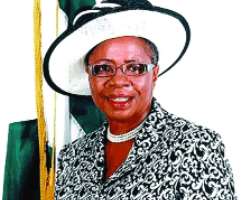 Dame Virgy Ngozi Etiaba is the first female Deputy Governor in the South East and the first female Governor in Nigeria. As a philanthropist and educationist, she was chosen as the running mate of His Excellency, Mr. Peter Obi in 2003. She was later sworn in as the Governor of Anambra state, making her the first female Governor in Nigeria following the impeachment of Governor Peter Obi. A several award winner, she has won awards for Excellence and Professional Commitment to the upliftment of educational standard in the country.
Her awards and honours also include the Rotary International Award for Excellent Vocational Service and Prime Motivator of Sickle Cell Programms in South East awarded her by the Orient Sickle Cell Foundation. She is also known as the Heroine of Democracy and Icon of Democracy. A mother of 6 and grandmother of 13, she is a Knight of St. Mary.
Virgy is a trailblazer, team player, great motivator and de-tribalised role model for Nigerian Women. Born in Nnewi, Anambra State, her motherly disposition towards her state has earned her the name Mama Anambra.
Recently, she organised a Charity Ball in Lagos to formally launched her foundation, Virgy Etiaba Foundation. In this interview with Saturday Sun , she reveal her plans to commit the rest of her life to humanity. She also spoke on her tenure as the Deputy Governor of Anambra State and politics generally.
Tell us about Dame Virgy Etiaba Foundation
It has been on for about13 years now. Dame Virgy Etiaba Foundation charity work began unofficially in 2001, but I decided to bring it down to Lagos and inaugurate it officially. All the while I have been doing it on my own privately. So the Ball we organised is a charity programme. The money realised will be used to touch the lives of the less privileged, the widows, lepers, prisoners, whatever handicapped there is in the world. The missionary work has taken me to places like Uyo, Akwa Ibom State. I believe that our problem in Nigeria is not in giving, but in being sure that the resources will be well applied. That is why we have chosen men and women of proven integrity as members of board of trustees. I plead with well spirited individuals and companies to support us financially for the worthy cause of completing the foundation's empowerment and resource centre. This centre will provide a platform for succor, training, workshops and seminars, for our beneficiaries.
What prompted you to establish the foundation?
It is as a result of what I went through. I had a miraculous healing when I was ill. 13 years ago I had cancer ill health and God healed me miraculously, and today I am alive. When I realised this myself I asked Lord Almighty to show me the way forward because I would have died. But Lord has a destiny with me, that is why I am here doing the charity work and trying also to make people understand that Cancer is nothing. It is just like other ill health. It is the way you project yourself and the way you receive the ill health determines the healing. There is nothing to be afraid of. So I am giving glory to God. I want to use my remaining life to serve, and that's what I 've been doing. I ve used it in serving my church. I 've used it in serving my state as a Deputy Governor, Governor and today the charity work here and there. I 've gone to 40 communities and groups trying to help. I also want to use this opportunity to tell widows that the loss of a spouse is not the end of the world. The Lord can use any body anytime anyway in any circumstance, just as the way he is using me.
How do you fund the project?
The Lord has been faithful. Not the half a penny of government has gone into this project. It is as a result of my children's friends and good spirited people who really know how to give, because the Lord asks us to give. The Lord says as you give so will you have your reward. That's how I've been sourcing my fund and materials and all others from industries and good spirited people and friends, as I have said.
Are you saying this is not politically motivated?
Not at all. I am not coming out as a politician. What then do I need? At my age, what I need is to pay back and then mentor others, encourage women to come. That is what I 've been doing even with the first lady. The 35% we are talking of, I 'm spearheading it also. We want women to come out. I am not coming out. I am there to encourage women. I am there to tell women that this is our time, that we must come out, because I believe that women have that touch from the Lord. We have the milk of human sympathy more than the men. Just think of women even controlling the family, go to work and then come back also. So I know that anytime God says any woman will hold any office, that woman will do well. We know many of our women that have done well. I am not coming out but I am there mentoring others.
Are you saying you have quit active politics?
No, but what I mean is that I am not holding any office now.
Two women are gunning for Senatorial seat in APGA, what do you think are their chances?
We take it as right. We are women. We have been moving to every nook and cranny preaching that women should come out. And we women must also support . We want women to move forward. And you find out that these women are educated. That is why education is very important because you know your right and you know where you are moving to.
As a deputy governor and governor of Anambra State, what can Anambra people remember you for?
Anambra people will, first and foremost, remember me for a woman whom the Lord used to bring peace to Anambra State when actually Anambra state was in dire need of peace. At the time I mounted the saddle as Governor, Anambra state was in catastrophe. But the Lord used me as a mother to bring peace, because I came out, not actually as a politician, but as a mother. I gathered everybody irrespective of religion, sex, tribe and culture. I made everybody understand I am a mother, and that is why at the end of three months I served as Governor, they gave me the name Mama Anambra, signed by the House of Assembly. I have a backing. I have a certificate for it. I am not claiming. It was endowed on me because of the way I handled Anambra state the few months I handled Anambra when peace was really needed.
Can you recall few of your experiences when you were the deputy governor of Anambra State?
Everybody should know that it was really a battle the time I was the deputy governor. You know politically, the big wigs will be trying to push you, but I said no, that I am a child of God. From the training I had, I had to make sure that I am there for the grassroots, and people were very happy. The pensioners, councillors and widows were happy by the time I came.
With the mass failure in NECO and WAEC results, what are you doing in this regard?
We need to retrain our teachers. We will find out that with the situation in the country the teachers are not motivated, so they are not happy. And if the teachers are not happy they can't produce the best from them. So this is what we are doing; retraining the teachers, trying to upgrade our institutions and send our teachers to seminars and workshops. And then getting the children to understand the importance of education, because education is the foundation of any development. If you are not educated, what could you do. So I believe that things are moving on and things will continue to be better.
What advice would you give to cancer patients on how to manage the ailment?
Is it only those who have cancer. There are malaria, diarrhea and so on, but what we are saying is that doctors should always look at the other side of human sympathy.