MY WIFE'S KIDNEY AILMENT INSPIRES GREAT MUSIC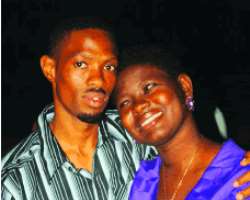 Shakomended and wife, Tomi
Afro pop/highlife singer, Lanre Fakeye aka Shakomended is laughing heartily once again after Tomi, his wife of three years, had a successful kidney transplant at St. Nicholas Hospital, Lagos. In fact, the artiste had come to the rescue of his wife by donating his own kidney to her.
Last year February, the world came crashing for Shakomended as his 27 year-old wife was diagnosed with end-stage chronic kidney disease at Lagos University Teaching Hospital (LUTH), and required about N6 million for an urgent kidney transplant. Deflated and unsure of how to raise the money that would keep his wife alive, Shakomended, who also works as Business Development Manager at Premier Records, organised a Keep Tomi Alive Benefit Concert.
But the show, which held on Sunday, May 17, 2010 at De-Blue Roof, LTV, Agidingbi, Ikeja, Lagos, had turned out a commercial failure despite the support of artistes like Ras Kimono, MC Basketmouth, MC Abbey, Koffi, Aju, Anny, Maye Hunter, Kaha, Mallam Spicy, Zdon Poparella, The Pulse, Justina, Frank De Nero, Spy Da Man, Onos, Chuddy K and a host of others.
Of course, showing an uncanny courage, Shakomended was unrelenting. He kept pushing on. And so, when Comrade Ayodele Adewale, Chairman, Amuwo-Odofin Local Government Area, Lagos State and Solid Rock Investment Limited respectively presented his wife with a cheque of N1m, hope rekindled for Shakomended. These, together with donations from friends, relations and kind hearted Nigerians; the woman was able to procure a dialysis which lasted for seven months. However, a real lifeline came for Shakomended's wife when Lagos Governor, Babatunde Raji Fashola, through the Ministry of Health, bankrolled her kidney transplant surgery at St. Nicholas Hospital.
Here, Shakomended recalls the dark days of his wife's ailment and how the light eventually shone at the end of the tunnel, for the family. Excerpts:
'Tomi, my wife is naturally a very simple and quiet person. She's unassuming and because I'm more of an extrovert, her introversive nature balances mine. She was diagnosed with 'end-stage kidney failure' last year February. I think she had Glomerulanephritis from childhood which was not detected until 2005 when it was discovered at LUTH that she had Step 2 Chronic Kidney Failure. This, according to Dr. E. L Bambgoye, Consultant Transplant Nephrologist at St. Nicholas Hospital, could be the reason she had hypertension as a young person. 
'My reaction when I received the new was that of complete silence. I felt very devastated especially when she started crying. I had lost my mother 14 years earlier to hypertension and my dad exactly five days after my NYSC in 2005. All that was ringing in my head was 'oh, not again!'
'My wife's sickness has not strained our relationship. Not directly. There's been an adjustment here and there in our normal pattern of life as I have to spend a lot of time in the hospital. The problem got us closer than before and I see this as an opportunity to serve humanity. I'm a very philosophical person and can't blame my wife for getting sick. I just know that God permitted this in my life in order to make me useful to mankind.
'If I say my wife's ordeal has affected my music career, it will amount to not appreciating everything God has done for me. Though, I would have wished for a stress-free life, this experience will give me the emotion needed to create great songs. In 2008, a video I shot with DJ Tee was nominated for the Nigerian Music Video Award, and naturally I would have wanted the sequence to continue and not be delayed. Yet everything is for the glory of God. In that sense I will say my wife's sickness has not in any way affected my music career.
'The support I've got has been tremendous. It's now I know that givers truly never lack. A lot of journalists, artistes, friends, fans, and relations have shown me immense love. This is something money can't buy. LTV gave us the Blue-Roof free of charge for the Tomi-Alive Benefit Convert. Zmirage Multimedia and Entertainment Network Konzult equally gave us multimedia, sound and lighting equipments without collecting a kobo. So also Live Beats and a lot more which I may not remember at the moment. All I can say is that God will abundantly reward everyone that supported us. Amen.'