Who Wants To Be A Millionaire Presenter, Frank Edoho's Marriage Collapses Again!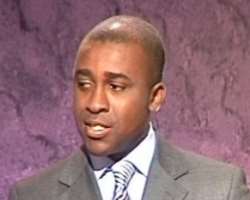 ...moves out of matrimonial home for t.v. gal, Katherine.

The marriage of Frank Edoho, the hugely popular presenter of must watch programme, Who Wants To Be A Millionaire, to Katherine, his Nigeria Television Authority employee wife is once again in crisis.
This is barely two years after the couple's celebrated bust up that was hurriedly patched up with the intervention of notable family friends and influential personalities at their work place.
Investigations conducted revealed that the current situation has reached such a level that Mr Edoho has moved out of his matrimonial home.
He is said to have discreetly secured another apartment in Victoria Garden city while his wife hold forth at the couple's abode in Lekki, Lagos.
Their three children currently reside with the wife.
Sources disclosed that Edoho abandoned home over what he labelled 'life threatening behaviour' of his wife, Katherine.
It is not clear at present what he meant by this appellation of his wife's conducts.
Information at the disposal, attributes the immediate cause of the present turmoil enveloping the Edoho's marriage to a mysterious abandonment of home by Katherine in the heat of a marital squabble.
She was said to have disappeared and remained incommunicado from her husband for four days.
She allegedly took the children with her in the mysterious journey.
Sources divulged a highly distraught Frank Edoho later learnt on the fourth day of her disappearance that she was abroad with the children!
He was said to have moved out of their matrimonial home before she returned and later secured another apartment for himself.
Efforts to make him return home to his wife are said to be meeting stiff opposition from the popular television presenter.
He is said to be insisting a wife he left at home for work, only to disappear for four days and surface in another continent is capable of doing anything to him!
The reason(s) Catherine behaved in the manner she did is not clear at press time.
It is however instructive to note that their celebrated bust up of not too long ago was as a result of wife battering allegations against Frank Edoho.
He was said to have beaten up his wife to a state of grave injury over what was later confirmed suspicion of infidelity.
The action had resulted in Katherine moving out of her matrimonial home and a breakup of the marriage- until intervention from notable family friends and influential employers.
However with Frank now moving out of the home for his wife and children -and gone ahead to secure a new home for himself, there are strong indications that the centre might not hold again in the Frank and Katherine Edoho marital union.
Investigations are still on to get a clearer picture of the crisis that is speedily collapsing the marriage by the day.